ONCE RARE GEORGE BURNS CASINO CHIPS ARE RELEASED BY CAESARS PALACE
Update August 23, 2017 One of the risks of the collecting world is paying too much for something because you think it's rare, and then discovering that there is nothing rare about it. This is what happened to casino chip collectors who bought a commemorative casino chip issued by Caesars Palace in Las Vegas in 1996. According to a search of previous website articles, the George Burns $5 Casino Chip had a value of $55 in 2002, and a value in the range of $40 to $50 just a few weeks ago, but now can be obtained for its face value amount -- just five dollars -- at some of the gaming tables at the casino. The drop in price followed a release of additional chips that were in the vault at Caesars Palace.
George Burns $5 Gaming Chip issued by Caesars
It was meant to celebrate his 100th birthday concert.
The George Burns $5 Caesars Palace Casino Chip has an interesting story. Caesars booked the famous comedian to perform on his 100th birthday on January 20, 1996. The birthday concert was sold out. Caesars had special commemorative casino chips made that would be used in the casino and sold to collectors, but just before the birthday concert George Burns became ill and the concert was cancelled. And weeks later, George Burns died.
Because the concert was never held, the sale and distribution of the special chips stopped. However, some had been sold and it was an instant collectible. While other commemorative chips can still be found in use in the casino, the famous George Burns chip could not be found. It was in such high demand that if any were "in play" someone would take it home with them.
But all that changed earlier this month when somehow Caesars Palace released for use in the casino uncirculated and unused George Burns chips from 1996 that were in its vaults. It's not really clear why there were released. It's possible that someone figured it was better to use chips that were in storage than for the casino to have to order and pay for new chips to replace those that had become damaged or were too worn to be used.
It is ironic, however, that Caesars would use chips for an event that never happened. Using chips for a concert that didn't happen is like a casino issuing chips for a Super Bowl played in Las Vegas without a Super Bowl actually having been played in Las Vegas. But in the world of collectibles, the ususual is what get's the most interest. For example a newspaper with the headline "Dewey Defeats Truman" makes that paper a collectible today. (If the newspaper headline escapes you, it refers to the election when Harry Truman beat Thomas Dewey to be President of the United States.)
If you go to Caesars Palace now, you will find the 1969 George Burns chips in play. If you want one for your chip collection go soon before other collectors grab them or before they see too much action on the casino floor and become soiled. If you can't get to the famous casino, the chip is being sold on eBay and on chip collecting websites for prices ranging from $7 to $60. But with the new supply that has become available a price of around $7 seems reasonable.
Originally 10,000 of the George Burns $5 chips were manufactured. It is not clear right now just how many survived in the vault at Caesars and how many are now being released for play. Up until a month ago the Burns chip was called "obsolete" and "rare" but with the new release of never-used, uncirculated chips from 1996 you can't call them obsolete or rare anymore. Anyone who paid a premium for these rare or obsolete chips could be very disappointed that the additional chips were released.
TOPPS SELLS A NEW BOX OF BASEBALL CARDS FOR $25,000
Update December 9, 2016 Today is the day that the Topps baseball card company starts selling a new collection of baseball cards. But these are different from any other new series of baseball cards and they are priced much higher than anything you've seen before. Each new box of these baseball cards is priced at $25-thousand and it's because each box contains authentic autographs of all-time greats and legends plus a chance to attend a special event.
It's called the 2016 Topps® Transcendent Collection™ Baseball. "This unprecedented baseball card release contains 50 framed autographs from nearly 40 of today's greatest living signers. Plus, a cut signature from a sports or pop culture icon such as Babe Ruth, George Washington or Christy Mathewson," says Topps. "To top it off, each box of Topps Transcendent Collection guarantees an invite to an exclusive experience with World Series Champion and reigning National League MVP Kris Bryant. Transcendent Collection is limited to a production run of only 65 total boxes in celebration of the company's 65th anniversary."
Beyond the premium trading cards, 2016 Topps Transcendent Collection offers an experience unlike any other. Each box contains an invitation to the exclusive Topps 65th Anniversary Party featuring Cubs star Kris Bryant on January 18, 2017 in Las Vegas. The experience includes hotel accommodations, cocktails, dinner, special gifts, and "memories to last a lifetime" says Topps.
According to Topps, "anyone who opens a specially made box of 2016 Topps Transcendent Collection is guaranteed low-numbered and rare autographs from current living legends such as Ichiro, Nolan Ryan, Kris Bryant, Sandy Koufax, Hank Aaron, Carl Yastrzemski, Vin Scully, Mike Trout and Derek Jeter. Transcendent Collection also goes beyond baseball to offer scarce signed cards of soccer legend Pelé and famous Star Wars actor Daisy Ridley. The contents of every 2016 Topps Transcendent Collection box were meticulously curated to ensure the highest quality and the best collectibles. In addition, each box contains cards that cannot be found anywhere else such as a one-of-a-kind Kris Bryant autographed card, and a unique art card that was hand-crafted by a top artist."
The cards are on sale today, Friday, December 9, 2016 with a suggested retail price of $25,000. This limited product won't be available for long.
DO YOU REMEMBER COMIC BOOK ADS ABOUT AN 1804 SILVER DOLLAR?
Update August 20, 2013 Heritage Auctions just sent me a press release about their latest sale of an 1804 U. S. Silver Dollar which is often referred to as the "King of U. S. Coins." The coin just sold at an auction for a price well above $3-million dollars, and that brought back memories of when I was a kid and there were ads on the back of Superman comic books offering a "reward" if you found one. Back then -- in the early 1960s -- the reward for "finding" an 1804 Silver Dollar was $10,000.
The ads were really a "come on" to get you to buy coins from a coin company. The 1960s was probably the "golden age" for coin collecting and it was probably also the "golden age" for stamp collecting. The 1970s were the golden age for art and antiques; the 1980s for baseball cards and cars. I'm not sure there has been a "golden age" for collecting anything since then.
Heritage did not release the names of the buyer or the seller but said the coin sold for $3,877,500 at Heritage Auctions on Friday, August 9 and that price was greater than the pre-sale estimate of $3+ million. A buyer's premium of 17.5% was included in the purchase price. Darn, I remember when only sellers paid a commission to auction houses.
COLLECTING MONEY WITH ERRORS
Update May 14, 2012 There is a group of coin collectors who specialize in collecting "errors" and this can be a fascinating hobby because there is a story behind every error and some errors can be very valuable. Other "errors" can be so common that the coins are not worth much or have absolutely no premium.
In 1960 the U.S. Mint made an error with Lincoln Cents. Some were minted with a large-sized date and some were minted with a small-sized date. But because the error was detected early, the Mint flooded the market with both small-date and large-date coins and as a result neither was considered to be rare or valuable.
Other errors the Mint can't duplicate or flood the market with and these errors can truly be collector items. For example, the $5 bill pictured below. Paper money is, of course, made by the Bureau of Engraving and Printing and in the case of the $5 bill below, an extra flap of paper folded over during the printing process and was printed with the face of the $5 bill. And when the extra flap (which is called a tab or butterfly wing) is folded out a blank space is on the $5 bill.
If you get one of these "tab notes" or "butterfly notes" out of a pack of new bills from a bank or the Federal Reserve, the tab or extra flap of paper will still be attached and that makes for a nice collectible. They're not really very valuable (recently similar bills have sold for $75 or less on eBay, but retail prices might be higher) but they certainly make a nice conversation piece.
And on this same $5 bill, I noticed what appears to be a giant thumb print under the Lincoln Memorial. That could come from clumsy handling of the sheet during the printing process. But it might just be ink that went astray.
In the photo below, this is how the "tab note" appears when it comes out of a bank-wrapped stack of bills. The tab appears to be a crinkled corner.
You might not notice the tab, because the printing process will make it appear flat, as if part of the note. But if you do spot it, you can carefully lift the tab -- as if lifting the wing of a butterfly -- to reveal the part of the bill that was not printed.
Below is the photo showing what appears to be a finger print or thumb print.
BUYING SHEETS OF MONEY FROM THE GOVERNMENT
Update May 9, 2012 The United States Bureau of Engraving and Printing -- the folks who print up our paper money -- will sell you uncut sheets of our currency. I don't know of many "collectors" who have these as a formal "collection" but I do know that a lot of people buy these as novelty gifts.
I've seen them framed in offices and in stores, and years ago there was a high end men's clothing store in Palm Beach, Florida that used the sheets of $1 bills as gift wrapping paper during the Christmas season. Yes, the store charged for the special gift wrap, but this wasn't gift wrap that gets shredded and tossed in the trash on Christmas morning. The gift wrap -- the sheets of $1 bills -- could be ironed flat and framed or cut up and spent. Usually it was framed.
Years ago, I bought two sheets of uncut currency just for the heck of it. I thought one day I would frame them, till I found out that the frames could cost more than the sheets of currency cost. Below is a sheet of $5 bills with what is now the "old small head design" of Abraham Lincoln. I didn't realize this when I first got the sheet years ago -- but when I looked at the sheet to take the photo below I discovered it is loaded with the numeral 9 in the serial numbers. And the serial number on the $5 bill in the bottom right corner of the sheet is made up of nearly all 9s.
There are stamp collectors who collect sheets of stamps so I guess there might be currency collectors who collect sheets of currency. But for the rest of us who are looking for a unique gift, a sheet of currency or a partial sheet of currency just might be the perfect gift for Father's Day, or for graduation day, or for someone opening a new business or law practice, or as a piece of art in your home office.
The Bureau of Engraving and Printing sells uncut sheets of currency with 32 notes or as few as four notes. I guess you could say there is uncut currency to fit every budget. But there is a slight premium because I guess Uncle Sam likes to make a profit when it can.
To order go to the government's website for The Bureau of Engraving and Printing at www.moneyfactory.gov and then click on the link for the BEP Store. That is where you will find the various types of uncut sheets of currency and the denominations that are available.
By the way, you might also see an item called "Lucky Money" which is a dollar bill with no less than three 7s at the start of the serial number. I suggested that the BEP sell "Lucky Money" years ago when the BEP was selling "Prosperity Notes" at the giant Long Beach Coin Show. The "Prosperity Notes" had serial numbers with 8s because 8 is considered to be a number of wealth in many Asian cultures. So when I was doing the news story about the show and the Prosperity Notes for KCAL-TV, I suggested that the BEP could also sell Lucky 7s which I said would be a hit in Las Vegas. Well, I'm not sure that the Lucky 7 notes were ever a hit in Vegas, but the last time I looked at the BEP website the Lucky 7 notes were out of stock.
There are a lot of paper money collectors who specialize in currency with "special" serial numbers. These special serial numbers can include "repeaters" such as 765765 and "ladders" such as 12345 and "solids" such as 55555. If you've ever played "liar's poker" you probably look for dollar bills with a lot of 1s for aces. Well, wouldn't it be nice to get an uncut sheet of $1 bills that is loaded with aces?
COLLECTING LIMITED EDITION PRINTS
Update May 6, 2012 You don't hear much anymore about collecting limited edition prints, but in the 1970s when the U.S. art market was on fire, the limited edition print market was on fire. And, unfortunately, a lot of people got burned when they bought into the hoopla.
I wrote about the limited editon print market for both Barron's and New York Magazine in the 1970s, and in my articles I tried to educate consumers about what limited edition prints are -- and what they are not. Here are a few points to keep in mind.
1. The number of your print really doesn't matter. Your print might say 1/100 but in reality your #1 print might have been the five hundredth made. What matters is the total number of prints. Different "publishers" can have different numbering systems, and so you might find that there can be a "1/100" and a "SA 1/100" and an "AP 1/100" but in each case the digit "1" does not mean that the print was the first one "pulled" or printed.
2. Artists may or may not have really signed the print. A handsigned print is supposed to be signed by the artist, but beware there are prints that were not signed by the artists. Former New York Governor and Vice President Nelson Rockefeller had a gallery in New York City which sold copies of the fine art that he collected. When you bought a signed, limited edition print in his gallery you were really buying a copy of a signed original print that he owned in his own collection.
3. Artists can also authorize prints that are not limited and are not hand-signed.
4. Artists might never have done the work themselves, and they simply authorized the work and then signed the piece.
5. A good rule to follow is to "buy from the source" which means from the artist himself, or the publisher who contracted with the artist, or from a well known gallery or auction house that will guarantee the work. Below is photo of a limited edition print from German artist Herbert Schneider who died in 1983. I know it is authentic because Schneider was at the gallery when I bought this piece and I met him at the party. If I were to buy a Picasso print today, I would have to trust the gallery or the auction house because I couldn't say I met Picasso and shook his hand, and handed him a check to purchase the artwork.
WILL THE HOBBY OF COIN COLLECTING DIE OF OLD AGE?

Update April 2, 2012 I'm afraid that the rare coin market and the hobby of coin collecting or numismatics is going to die off -- literally. There are several coin stores around So Cal and for the most part the customers who go into these coins to buy and sell and trade, and just to look around, are retired, nearly retired, and 50 or older. Some are in there to sell heirlooms that they inherited. Recently I was in a coin store where a gentlemen was showing off a large collection of silver dollars, gold coins and collector coins -- but he was there to sell them on behalf of his relatives as they were part of an estate they had just inherited. Gone are the kids -- the kids who would buy blue Whitman coin folders and collector coins to fill the slots in the coin albums.

In a decade or two, even the old guys in the coin stores will be gone, and I think that anyone who does show up will be selling what grandpa left behind. Buyers will be as rare as two-cent pieces.

Of course you could argue that kids have been priced out of collecting coins. Real silver coins are too valuable for a kid's allowance. Pocket change really doesn't have the treasure it had when I was a kid -- and in the early 1960s it was still possible to find Indian Head Cents and Buffalo Nickels, and Standing Liberty Quarters in your pocket change. What you get in today's pocket change is still interesting because it contains commemorative issues of Abraham Lincoln Cents and Jefferson Nickels and those quarters honoring the states and terriroties. But these are so commonly produced and the mass marketers have flooded shop-at-home TV channels with specially packaged sets that no one really thinks they are special anymore.

And the U.S. Mint has done such a good job packaging its collector coins that you don't need to go to a coin shop anymore -- you can order all of your collectibles online or by snail mail. But again the prices are high and the little guy has been priced out of the market.

More importantly the markups are so high that the lure of hitting it big in the new coin market has been lost. No longer do kids reading comic book with advertisements for a reward for finding a 1943 copper cent or an 1804 silver dollar. Reality has killed this idea of finding big money in loose change.

And when I was a kid, you could still go to the bank to get real silver dollars. Today, real silver dollars are too pricey, and have been unavailable at banks since the great silver price run-up of the mid-1960's.

So what does this mean? I think it means this: As the hobby gets too expensive, and grows old and dies, interest in rare coins will die. With less interest, prices will decline. Sure, there will always be a certain "price floor" under rare coins, but as demand wanes, downward pressure on prices will increase and some high value coins today could be tomorrow's bargain basement collector pieces.

If you are thinking that this is a ridiculous concept then look at what happened to the hobby of stamp collecting. When I was a kid, it was a treat to be able to buy or get as a gift plate blocks or single mint, unused U.S. postage stamps of the 1940's and 1950's. We kids cherished our plate block collections -- four sheets from the corner of a sheet of stamps with a number from the printing process in the margin. Today those kinds of stamps are used for postage, and stamp dealers (if you can still find them) sell them at face value and buy them for less than face value.

Stamp collecting is out of style. Even once pricey rare sets of stamps today are selling for a fraction of what they sold for a quarter century ago. Coin collecting could suffer the same fate except that coins have an intrinsic value from their gold and silver while stamps printed on paper do not.

The coin collecting market and business could be dying with each additional year that we collect coins. That's the risk we take unless suddenly young people decide that collecting coins is as cool as texting or buying the newest cell phones or computer tablets. That's my opinion. What do you think? I invite you to share your opinion on our Forum by clicking here.

UPPER DECK ISSUES PRESIDENTIAL CANDIDATE TRADING CARDS

Update February 3, 2012 Upper Deck, the giant sports card trading company, is now issuing a limited edition of presidential candidate trading cards that will be inserted into packs of certain sports trading cards.

Upper Deck says it will be releasing the company's World of Sports trading card product on February 21, 2012 and randomly inserted into packs are insert cards from the "World of Politics" set featuring well-known politicians like Barack Obama, Newt Gingrich, Mitt Romney, Ron Paul, Rick Santorum and more. There will be nine subjects featured in the set and these rare cards are slated to fall one in every 40 hobby packs. Additionally, Upper Deck says it will be producing a super-rare variation of these cards that will have collectors hungry to find more.

"We work hard to provide topical content in our new trading card releases," said Jason Masherah, Upper Deck's vice president of Marketing and Business Development. "With so much attention around the 2012 election, we thought it was only fitting to produce a set of cards that would help pay tribute to all the highs and lows of this presidential race by capturing the top candidates on cardboard."
PRESIDENTIAL ELECTION AND CAMPAIGN MEMORABILIA
Update November 2, 2011 In about a year from now there will be another presidential election. And during election years, certain collectibles gain interest and sometimes their prices rise. Will we see an increase in prices for presidential campaign memorabilia?
I know there is strong interest in campaign memorabilia from the days of our founding fathers. There are George Washington campaign medals and buttons, and signs for Abraham Lincoln -- that sorta stuff. There are people who collect JFK and "I Like Ike" memorabilia, too. There's are several books about the value of presidential campaign collectibles that I found listed on Amazon.com including one called "Hake's Guide to Presidential Campaign Collectibles: An Illustrated Price Guide to Artifacts from 1789-1988" and it's in paperback, and there are others including books about campaign button.
So I have to wonder if anyone will have any interest in the only election memorabilia I have from the presidential campaign of 1988? What I have are two packs of king size filter cigarettes. One pack says "Bush for President" and one says "Dukakis for President" and each pack has an illustration of the candidate with the words "Campaign '88" and the art is in red and blue printed on white.
I got these packs of cigarettes (see the photo below) from a smoke shop in Beverly Hills. They were sold as a novelty item in an attempt to measure the favorite candidate among smokers. I did a story on their sale when I was a reporter at KCAL. I don't remember which packs were the top seller, but that was the year George Bush, Sr. won, of course.
Someone recently tried to sell a pack of the Bush cigarettes on eBay with a starting bid of $9.99 but the auction closed without a bid. I don't know if these cigarettes have changed hands as a collectible.
They are made in the USA, of course, and carry a warning from the Surgeon General. But unlike today's modern packs, this warning simply says "Cigarette Smoke Contains Carbon Monoxide."
Maybe these old packs of cigarettes would fit into a collection of Surgeon General warnings?
HOW WILL YOU DEFEND YOURSELF AGAINST INFLATION?
Update September 30, 2011 Today, inflation is low and that's because the economy is weak. But that will change and when it does, inflation will rise -- and could even soar. I remember when Certificates of Deposit at banks were paying 15% to 18% and when a fixed rate mortgage on a house was at 27% and when money was being poured in gold and silver and antiques and rare coins as a hedge against the inflation monster.
Well, you can prepare for a new inflation monster by starting to invest now in rare coins and stamps and collectibles and the experts at ProCoin and www.ProCoin.com can help you do that. What is important for Southern Californians is that the experts of Pro Coin are here in Southern California, in Orange County -- so you will be able to meet with and know these experts.
They will help you invest in assets that you can hold and put into your own safe deposit box or vault or safe. They are not selling paper assets and they are also selling things of beauty that you can hold and preserve for your heirs and future generations. There really is pride of ownership when it comes to these rare coins and stamps, and you will be investing in truly marketable collectibles that can include those with independent "third party grading" which is recognized by dealers and investors around the world.
Call ProCoin at (866) 472-8126 or (949) 429-8150 go to their website at www.procoin.com for information and to see their catalogue of collectibles that are for sale. Their email address is info@procoin.com and you can contact them this way as well. Watch our new Best Buys TV Show report below. Then call them for a free consultation.
LAS VEGAS SOUVENIRS THAT COULD GIVE YOU A JACKPOT
Update September 25, 2011 About seven years ago I did a news story on the McDonalds museum here in Southern California. Yes, a museum that featured all sorts of memorabilia of the Golden Arches including just about every toy that came in a Happy Meal, and there were cups, napkins, wrappers, boxes, even display cases and menu boards and chairs and seats that McDonalds used over the years.
What I was surprised to find out was that some of those common, ordinary things that usually ended up in the trash were now very collectible and very valuable. Yes, those old paper cups had value, and obviously the old Happy Meal toys and boxes were valuable.

But when I asked the Museum curator what the most expensive item there was he pointed to an original strip of McDonalds "wet naps" or what we call pre-moistened towelettes. Yep, that strip of four wet towels that McDonalds used to hand out were the most valuable collectible.

They were so valuable because no one bothered to save them. It turned out that while people saved cups and toys and boxes and signs, no one saved the towelettes. If I recall, and this as I said was about seven years ago, that strip of towelettes was valued at more than a thousand dollars.
And that got me thinking about what today's throwaways could someday be worth in the future. Just like the baseball cards from the 1960s that kids didn't bother to save, many small items from today and from our recent past might someday be worth big bucks. A lot of people like to collect souvenirs from Las Vegas -- and some of the throwaways that Vegas visitors didn't save might turn out to be a collectibles jackpot in the future.

For example, when the casinos went to ticket-in and ticket-out machines and eliminated coins I immediately thought that someday coin buckets and towelettes would be valuable. But then I found out that everybody saves the coin buckets, and even I have a couple that I use to hold pens from the casinos as well as the room key cards. Did you save some of the towelettes with the casino names on them? I didn't. And then I started to wonder about the slot gloves with the casino names on them. Remember, the glove they used to give you so your hands wouldn't get dirty from the coins? Anybody bother to save them?

Could slot gloves emblazoned with casino names and logos be the future collectibles jackpot? How about the one dollar and five dollar and even $25 casino coins that were used in slot machines. If I recall, there were even $500 slot tokens at one time.

How about the old Silver strikes which used to drop out of 25-cent slot machines as a jackpot. They were called Silver Strikes because they actually contained silver. A $10 silver strike had six-tenths of an ounce of silver. There were also $7.50 silver strikes and $25 silver strikes. And already they are collectible because of their silver content. Some casinos even change the design on their room key cards and if you get a room key card with a "rare print" that might even be collectible in the future.

I think a very collectible Vegas item might be a marker (that's a casino IOU) signed by Pete Rose, or one signed by Bill Bennett -- if they exist. Did Frank Sinatra or Sammy Davis ever have to sign a marker?

I have plenty of markers that I signed and were returned by Caesars Palace after I paid them off. And I'd gladly sell one to anyone who thinks it's collectible.
YOUR "KID COIN COLLECTION" ISN'T KID'S STUFF ANYMORE
Update August 7, 2011 A few weeks ago I found some of my old blue Whitman coin folders with my collections of circulated "Mercury" and "Roosevelt" dimes. I stopped putting coins into those blue Whitman folders in 1965. I never paid much attention to them since because this was "kid's stuff" and the coins weren't worth much. Oh, maybe a couple of the "Mercs" were worth a buck or two -- but they couldn't be worth more than that because they were worn, circulated coins from pocket change.
I stopped collecting in 1965 because that was when "silver coins" disappeared because the price of silver made half dollars, quarters and dimes worth more for their silver than their face value. I knew those circulated, worn, beat up coins were worth more than face value, so that's why I held on to them.
But I just checked and found out just how much they are worth now. And I was surprised. With silver at about $40 an ounce each of those Mercury and Roosvelt dimes, made with 90% silver or what is called "coin silver" is actually worth about $2.90. Wow.
And I also have some pre-1965 quarters, and with siver about $40 an ounce each of those worn silver quarters is now worth about $7.25.
I also kept a 1964 Kennedy Half Dollar. I think every family in America kept one of these to honor JFK. And it's worth $14.50 because of its silver content.
Now, before you run off to some pawn shop to sell your old coins remember that some coins can be worth considerably more than its "bullion value" because the coins have some numismatic or collector value. For example, I have a 1916 Mercury Dime and while it is very worn, it is still worth about $7 to $10 and if it had a "D" mintmark meaning that it was minted at the Denver mint it could be worth a thousand dollars or more depending on the condition.
So before you rush to sell your old coins, be sure you know what you have and what they're really worth.
There are several websites offering information: The Professional Coin Grading Service website www.pcgs.com has a price guide that is free to use. And the website www.coinflation.com can tell you what coins are worth based on the metal content.
PRO COIN AND PROCOIN.COM
Update August 1, 2011 With the price of gold now at $1,600 an ounce a lot of investors are feeling confident about investing in gold bullion. But what they might not realize is that investing in "generic gold" such as bullion coins and wafers or "rounds" or even small bars leaves them at the mercy of the price of the metal -- and the price of the metal alone.
There is a way to hedge changes in the price of gold. One hedge is to invest in gold collectible coins. By owning gold collectible coins the collectibility of the coin can guard your gold investment from a rapid drop in the price of the gold metal.
There are many kinds of collectible gold coins that can hold their value even if the price of gold bullion drops dramatically and you should ask dealers about this.
The experts at Pro Coin offer advice and guidance about building collections and how to diversify your assets with gold, silver, platinum, rare United States coins, and rare stamps. Many people want to diversify because of the threat of inflation and gold, silver, platinum and rare collectibles have a record as an inflation hedge. Pro Coin can give you the advice you need and they also buy and sell gold, silver, platinum and collectibles. These experts can also give you advice to build a superb collection. Pro Coin offers free consultations and appraisals of collections and they can give you advice about the certain gold, silver and platinum coins that are eligible for IRA accounts.
Call Pro Coin at (866) 472-8126 or go to their website at www.procoin.com for information and to see their catalogue of collectibles that are for sale. Watch our video reports below. The first TV report below is an overview about what ProCoin.com can offer you.
In late April 2010, ProCoin.com offered a special starter deal to get consumers interested in owning gold and silver. The starter deal includes a limited edition one ounce gold coin issued by the United States government that has numismatic value in addition to the value of its gold. And for those interested in silver, there is an uncirculated Silver Dollar that is certified as to grade and authenticity by an independent, third party, grading company -- either PCGS or NGC. If you're thinking about purchasing rare coins from ProCoin or any other broker or dealer, the grading provided by PCGS and NGC and other TPG or third party grading services, will help you evaluate the best deal for your money. Watch our Best Buys TV show report below to learn more about ProCoin and some of the best TV deals it offers on collectibles.


IT'S WORTH WHAT? ON NBC TV
Update July 19, 2011 I just finished watching the new NBC-TV game show called "It's Worth What?" and I'm glad NBC put it on. It might not be a ratings success -- in fact my wife didn't like it. But I loved it because I am fascinated by collectibles -- and I'm even fascinated by things I have no personal interest in such as furniture and taxidermy. Yes, I didn't like seeing Trigger on stage. I am amazed at the value of collector cars and I was surprised that muscle car was worth as much as it is today because I know the collector car market dropped dramatically a few years ago.
I am also glad that NBC put the "It's Worth What?" show on because whenever shows like these get on TV it increases interest in collectibles. Some TV viewers might decide to start a hobby or go back to collecting something they collected as a kid. And some viewers might give that trunk of old stuff that they inherited from Grandma a closer look. And who knows what treasures might be found? Check out the show Tuesday nights on NBC.
GAME WORN NFL JERSEYS AND EQUIPMENT
Update May 11, 2011 A Las Vegas collectibles company that specializes in NFL game-worn uniforms and gear has just signed a contract with the Washington Redskins to offer their game worn gear from the 2011 and 2012 NFL seasons. For more info on the deal between JO SportsCo and the Redskins go to our "Sports, Sports Equipment and Sports Deals" page.
PENNIES WORTH 3-CENTS, NICKELS WORTH 7-CENTS. SHOULD YOU COLLECT THEM?
Update March 29, 2011 As I write this, the metal content of a U. S. Cent minted before 1982 is worth about 3-cents, or triple the face value of the pennies. And the metal content of all common nickels now in circulation is now 7-cents, or about 40% above the face value. This is the result of inflation-- and mainly inflation of copper.
Until 1982 our pennies -- cents -- were primarily copper but in 1982 the high price of copper forced the U. S. Mint to start minting pennies that were aluminum and coated with copper. Most cents in circulation today are "clad" pennies and the metallic value is only a fraction of the coin's face value.
Since 1946 the composition of our nickels hasn't changed -- but the price of nickel and copper in the nickels has risen, and that's why nickels today are actually worth a bit more than 7-cents each based on their metallic content.
Well, should you save these pennies and nickels? That's a tough question. First, the U.S. government doesn't want you to save them because the government fears a coin shortage should all of us wake up one morning and realize that every nickel is actually worth 7.1-cents. And while most cents in circulation are "clad" coins, the government doesn't want everyone taking the remaining copper pennies out of circulation or hoarding all cents looking for the copper ones. Even more, the government doesn't want our pennies and nickels melted for their metallic content which is why in 2007 a regulation was ordered by the Treasury Department barring the exporting and melting of cents and nickels.
But let's get back to the question -- should you save these pennies and nickels? First of all, there is a chance that some of those pre-1982 cents are in fact older, collectible coins with numismatic value. These should be saved because a collector isn't going to melt these coins anyway because their collector value is far more valuable than the value of the copper. Pennies dated even in the 1950s in exceptional condition -- uncirculated and looking new -- already command nice prices among collectors. The same is true for older nickels, especially Buffalo nickels minted until 1938 and "War Nickels" minted during World War II which actually contain silver -- these are also valued by collectors.
Some day, the Mint might have a new "clad" nickel and when there are enough "clad" pennies in circulation then the restriction on melting pennies and nickels might be lifted. In 1964 the melting of silver dimes, quarters and half dollars was restricted because of a coin shortage caused by the rise in the price of silver. But as clad dimes, quarters and half dollars were sufficient, the restrictions on melting the silver coins was lifted. So should you save those modern nickels now in pocket change? Well, a hundred years from now your great grand kids will be happy you did. But six months from now you might be wondering if it's worth the bother?
GOLD FROM THE GOLDEN NUGGET, LAS VEGAS
The Golden Nugget Casino and Hotel in Las Vegas is famous for its display of giant gold nuggets. And now, you can bring a piece of the Golden Nugget gold home with you after your next trip to Vegas as a collectible and souvenir -- and as an investment. The Golden Nugget is one of the venues now with a vending machine selling gold coins and bars and wafers with sizes starting at one gram and going up to one ounce. There is a ten gram Golden Nugget wafer (they call it a bar) that is available from the vending machine and an illustration of the Golden Nugget ten gram bar is below. This is certainly an "upgrade" for Vegas souvenir collectors who collect "silver strikes" which are tokens from Vegas casinos that are dispersed from slot machines. There is no gamble when you buy the Golden Nugget ten gram bar, however -- as the market price is set throughout the day and that's what you pay through the vending machine. However, you are gambling on the price of gold and whether or not a Golden Nugget gold bar will attract the fancy of other collectors.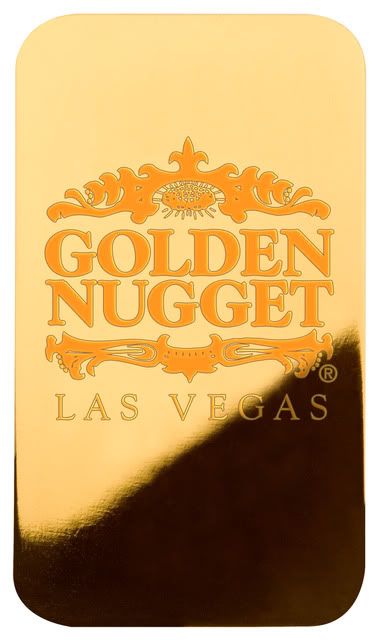 TOPPS BASEBALL CARDS ANNOUNCES THE TOP BASEBALL CARDS
Update March 3, 2011 The Topps Baseball Card Company has surveyed collectors and came up with the top baseball cards. Examples of these top collector cards will be inserted in lucky packs of Topps Baseball Cards this spring. And, lucky you if you get the card voted as #1 which is the Mickey Mantle rookie card of 1952. Cards of Hank Aaron, Jackie Robinson, Ken Griffey Jr., Bo Jackson, Ted Williams and Willie Mays are also among the top ten. The Topps Don Mattingly card of 1984 was voted as #19 and I am happy to say that I bought about a dozen of them back then as an "investment" in the Yankee rookie star. Mattingly is now the manager of the Los Angeles Dodgers.
ANTIQUES ROADSHOW, PAWN STARS, AUCTION HUNTERS AND GARAGE SALES
Spike, the cable TV network, recently added a "find it" program called Auction Hunters. It's about a couple of guys who buy abandoned storage units, discover treasures, and sell these treasures for huge profits. This "find it" theme has been going on for a while, and you've heard the stories about how a fortune was found in an abandoned storage unit after the contents were sold at auction -- or how a body was discovered. We love those stories and we especially love the idea of buying "stored treasure" for "pennies on the millions of dollars." Auction Hunters is produced by a Los Angeles production company and a publicist for the show told me that some Southern California "finds" will be featured in future episodes. Sounds like a fun show especially for others who dream of stumbling on a treasure instead of just a storage unit filled with old clothes and unwanted furniture.
Of course the "grand daddy" of these treasure-finder shows is Antiques Roadshow. Why do we watch the show? Because we are hoping to see something like Aunt Ethel's clay pot and find out that it's really an Ancient Mayan ceremonial urn that is worth gazillions of dollars. Once you start watching you start looking around in your closets, don't you? Come on, don't deny it.
And then there is Pawn Stars. Another show that reveals that what you thought was Uncle Morris' pirate's cannon really is a pirate's cannon and it really will pay for your kid's college education.
What's really great about these shows is that they help people with their garage sales. We might not be able to make it to that auction of abandoned storage units, and we might not have a pack-rat great great Aunt Ethel who just passed away leaving four rooms filled with "old stuff," and we might not have a mystery box of things our grandparents left behind-- but there is probably a garage sale around the neighborhood every week and we will go to them for our own treasure hunt. Admit it, you do it.
When you go to a garage sale you hope you're going to discover a Rembrandt in that box of old paintings with a sign that says "any painting, $5 each." You also hope you're going to discover a shoebox filled with 1960s baseball cards -- like the shoebox you had until your Mom cleaned out your closet when you were away at college.
Programs like Antiques Roadshow, Pawn Stars and Auction Hunters are entertaining and inspirational and motivational. They make us look around, be more inquisitive, and make us dream of finding an original Barbie doll in a box that was never opened because great-grandma Helen forgot to mail it to your great-Aunt jean for her eighth birthday.
So we keep dreaming, and now we add Auction Hunters to our list of shows we must DVR so we can also strike it rich.
COLLECTING CHECKS AND AUTOGRAPHS
There are a lot of check collectors -- the combination of a signed check gives these collectors a look at history about banks and the financial industry as well as an autograph of famous people. Some of these signed checks are very valuable-- some are perhaps too valuable. So now there is a web site that sells copies of famous checks and these are also very decorative, suitable for framing and ideal for offices.
www.Famous-Celebrity-Autographs.com is a site that offers quality reprints of checks and other financial documents signed by famous people. "Check" it out.
FOOTBALL CARDS AT $50 A PACK
I remember when a pack of baseball cards or football cards cost 25-cents or less, but that was decades ago. Today's sports cards have autographs and pieces of memorabilia embedded in the cards and with the fancy production and collectibles come hefty prices. When Bowman released its Sterling Football 2009 cards featuring top rookies and super veterans for the 2009 NFL season, each pack of cards carried a price of $50 because of what might be inside.
Every pack of the Bowman Sterling 2009 football cards guarantees one autographed card, two relic cards which include collectibles such as a piece of a jersey, and two rookie cards. And some packs might contain a relic card that has been autographed. And some packs might include two autographs on one card. These cards can also be numbered to show they are limited.
USE VIDEO TO HELP SELL YOUR COLLECTIBLES
Do you sell collectibles on a web site or do you sell collectibles on eBay? Then we have an idea that might help you. Why not put a video of your collectible on the web site to help generate bids and to let others know the quality of the item you are selling?
For example, coin collectors look for the "cartwheel effect" on brilliant uncirculated coins, especially on coins such as silver dollars. But still photos cannot show a true cartwheel effect. A true cartwheel effect can only be seen by rotating a coin under light. The same may be true with rainbow toned coins -- a "flat picture" may miss the true colors in the rainbow toning on certain coins but a video of a coin being shifted in light can show the true colors of the rainbow that make these rainbow toned coins so valuable.
Do you have a rare doll that makes sounds or has a voice? A still photo can't let bidders hear the voice or hear the sounds, but a video can play the sounds and voice and that can help your item when it is up for auction. Are you selling a car at auction? Well, let a video show the car and let the bidders hear the purr of the engine.
Producing these types of videos and putting them on the Internet is not expensive and can be done quickly. If you need this service, use our "Contact Us" page to get in touch with us and we can explain this service to you.
WORLD SERIES AND SUPER BOWL RINGS AT AUCTION
There are several collectibles from the world of sports that just about any guy -- or gal -- would love to have. These include a game-used bat swung by Babe Ruth or Mickey Mantle, and boxing gloves used by Muhammad Al, not to mention autographed baseballs and footballs.
And don't forget World Series and Super Bowl Championship rings. Imagine holding up your beer at the bar or tossing dice or handing over your credit card to a clerk with a championship ring on your hand? Wow. Talk about a conversation starter.
Well, some Super Bowl and World Series championship rings recently sold at an auction run by Lender's which specializes in collectibles. Among the prices paid for these and other championship rings:
$22,690 for a Larry Brown ring from Super Bowl XXX, $30,200 for a Michael Carter ring from Super Bowl XXIV, $27,455 for an Anthony Jones ring from Super Bowl XXII, $20,627 for a Guy LeFleur ring from the 1976 Stanley Cup champs, $24,959 for a Boston Red Sox 2007 World Series ring, and $22,108 for Sparky Adams 1931 World Series ring.
And a mint condition first issue of Playboy went for $4,992. I'm wondering when some World Series of Poker bracelets will hit the auction block. I know that some have already been sold privately -- and I am sure that public bidding will be active especially that poker has become a sport and is more than gambling.
NOTHING BEATS AN AUTOGRAPHED BALL
Update April 1, 2013 There is something about autographed sports memorabilia. I have on my desk a baseball signed by Barry Bonds -- okay, not your most popular sports figure, but I still cherish it. I also have a ball signed by Pete Rose -- and this one has a story because Pete Rose can been seen most weekends at Caesars Palace in Vegas signing balls and bats at a sports memorabilia store in the Forum Shops. My prized possession, however, is a football signed by Dan Marino, Joe Montana and John Elway, and I have a photo of me and the quarterbacks to go with the football. I met them at an event at Caesars Palace a couple of years ago. Coming from Miami, I was always a big fan of Dan Marino and I even interviewed him a few times when I was a reporter in Miami.
We all have a "thing" for autographs from athletes. I once played poker with Jose Conseco, and I got him to autograph a one dollar bill.
Sometimes you are in the right place at the right time, and you can get an autograph of your favorite ball player. But sometimes you just have to buy it.
DO YOU COLLECT CREDIT CARDS? PLAYER CARDS FROM CASINOS?
Did you know that the first credit card was actually a piece of cardboard and not plastic? Old credit cards are collectible, and so are player cards from casinos. The designs change, the colors change, and of course there are different types of cards for different players. Some cards are more prestigious than others -- and those include the 7 Stars cards that the high rollers get from the Harrah's casinos or the Red Card that players get at Pechanga Casino. Go to any casino and you'll find certain cards for certain levels of play.
In the credit card business there are prestigious gold cards and platinum cards, and now Visa is offering a Visa Black Card. And the Visa Black Card might also become a collectible some day for a couple of reasons. First: the Visa Black Card is made out of carbon and not plastic; and second the card will be on the "exclusive" side available to only 1% of the U. S. population, says the company, and to get one you have to pay an annual fee of $495.
So you have to wonder what the Visa Black Card will be selling for on eBay a couple of years from now when the first cards expire?
By the way, the truly collectible player cards and credit cards are cards that belonged to famous people. I remember seeing an Elvis Presley credit card for sale in an auction.