THESE NEW IGT GAME KING VIDEO POKER MACHINES HAVE SCREENS THAT ARE TOO BIG
Update November 10, 2012 I am starting to hear complaints about a new version of IGT's video poker machines. These new machines have big screens that display the hands and players have told me that the screens are too big and almost force the player to move their chair back from the screen to take in the all of the five cards displayed. I checked out the new IGT machines that are now in use in the "mini dome" high limit area at Caesars Palace in Las Vegas.
New IGT Game King
Big, bright images. Maybe too big?
These new "Game King" machines do have a larger, brighter screen and if you are accustomed to sitting close to the machine, you will want to sit back or even move your chair back. The video poker screen really looks like a big screen TV. Now, moving back isn't necessarily bad, but then you have to consider the reach to the buttons. Button placement is a bit different but in a couple of moments you can quickly adjust. Perhaps the biggest change for the buttons is the placement of the "cash out" button and hopefully you will have many cash outs and you will quickly adjust to this minor change.
Another difference with these new IGT Game King sets is that it really isn't a "slant top" video poker machine any more. The screen appears to be vertical, which prompts the player to sit straight -- no more rounded shoulders. You might also have to adjust the casino's seats to a lower position so that you can be at eye level with the screen. And if you were one of those players who liked to rest his head in one hand while he pushes buttons with the other hand, you might have a problem doing that with this screen position.
Traditional slant top.
More comfortable even with smaller screen?
I suspect that the new IGT machines will replace the older slant top models because consumers are now used to high definition TV and these new IGT machines give the impression of crisp, bright, high definition video. But players just might prefer the "comfort" of the slant tops.
I've never heard of a casino slot manager surveying players about what style of machine they prefer. Slant tops are usually preferred over the much older upright table top machines, and the new IGT machines appear to be a step going backwards towards the old table top uprights, instead of an improvement on the slant top. I think a better idea would have been to put the new, brighter screens and graphics in the slant top design instead of making them a newer version of an upright.
Royal Flush on new IGT Game King.
Inconveniences will melt away with a win.
But if the new IGT upright design with the wide screen does make you feel uncomfortable and uneasy, I'm sure the negative feelings will go away as soon as you hit a big winner such as a royal flush. And if you think the cash out button is a problem -- remember that a cash out button is never a problem whenever you get to cash out a profit.
At Caesars Palace in Las Vegas the first of these new IGT Game King Uprights are being used in the high limit slots and video poker area under what is known as the "mini dome" room. Elsewhere at Caesars, players will find the traditional upright machines and the slant top machines. At Harrah's Rincon, for example, you might find better pay tables on uprights than on slant tops. It seems like casinos who do this are saying -- if you want comfort, you'll have to pay for it with lesser pay tables.
Because of the convenience of sitting at a slant top, many casinos limit the pay tables on the slant tops, and actually give better pay tables on the less comfortable uprights. In the mini-dome room at Caesars you will find either 8/5 Bonus or 7/5 Bonus on the new IGT uprights. The Game Kings that are visible from the casino floor have the 7/5 pay table, while the Game Kings inside the room have the 8/5 Bonus game.
ANYTHING CAN HAPPEN WHEN YOU PLAY VIDEO POKER
Update August 23, 2012 Anything can happen when you play video poker. Expected return and probabilities really mean nothing when a random number generator -- a RNG -- is truly random. The RNG does not know proper strategy, and a RNG may not give you the card you hope to draw. Sometimes the RNG will surprise you with a great surprise, other times it will disappoint you.
There are many players who have held four cards to a royal flush and fail to draw the royal card (a 1/47 chance) in 100 or 200 or more draws. There are players who may go 200,000 or more hands without one royal, even though the odds are you should get a royal about once in 40-thousand or so hands.
And then there are the unlikely hands that can make your day -- your trip -- or even your year. There are players who are dealt a royal flush, and then there are players who discard the original five cards dealt and then draw a royal. And then you can get unlikely hands like the one in the photo below: you hold a single high card, a queen, and on the draw the RNG gives you quad aces.
Held a queen, only high card.
Quad aces come on the draw.
Is there a lesson here or a moral to the story? Well, you can always hope for a "miracle" and miracle draws and miracle deals can happen and do happen. I know of a player who was dealt a king high straight flush and dropping the 9 drew the suited Ace for the royal. In most games you don't take that chance. In this particular case, the player was at a Double Double Bonus game and "proper strategy" says you never dump a straight flush for the 1/47 shot at a royal. But this player did and got lucky. The true lesson is that miracles happen but you can't count on them so you play the best way for the cards you have. In the photo the queen was held because it was the lone high card in an 8/5 Bonus Poker game and that was the proper thing to do. Dropping the queen hoping to draw quad aces or a royal in another suit, or another four-of-a-king would have been a crazy thing to do. Yet we see, crazy things do happen. And crazy things do happen when a random number generator is really random.
BETTER THAN FULL PAY BONUS POKER
Update August 25, 2012 One of the better video poker games to play is the traditional game called Bonus Poker and the "full pay" version of 8/5 Bonus pays almost 99.2%. There is also a game called Aces and Faces poker, which is like Bonus but the big quad payoffs come with Jacks, Queens and Kings instead of the Bonus version which pays big on 2s, 3s, and 4s.
But if you like those games, consider playing Ace$ Bonus. Ace$ Bonus is spelled with a dollar sign instead of an "S" in Aces because you can make much more money with this game while not giving up the overall good paytable that you get with Bonus Poker or with Aces and Faces poker. What makes Ace$ Bonus better is that a certain combination of quad aces pays the same as a Royal Flush. Ace$ Bonus assigns one of the letters A, C, E or S to each of the four aces in the game, and if the four aces appear on the screen as ACES without a space between the Aces then you get paid the same as if you hit a royal flush. If your quad aces appear in any other order, they pay the same as in regular Bonus Poker or Aces and Faces.
In other words, there is nothing to lose playing this game. You still get the 8/5 pay table, you still get the big payoffs on quad Aces, 2s, 3s, and 4s as you would in Bonus (reverse the low quads for Jacks, Qeens and Kings in Aces and Faces) but there is the potential for the extra big win for ACES in order on the quad rockets. And that makes ACE$ BONUS POKER have an expected return or a pay table that pays 99.4%. Now, you might be saying what's the difference between 99.2% and 99.4-percent? Well, it doesn't mean much unless you hit ACES and then you'll be happy you're on this special version of traditional Bonus Poker.
Now, you must be careful checking the pay tables before you elect to play Ace$ Bonus before. If you find 8/5 Bonus but the Ace$ Bonus game has a 7/5 paytable, then playing Ace$ Bonus loses its big advantage over the traditional Bonus Poker game. Above is a photo of the pay table from an Ace$ Bonus game at Harrah's Rincon in San Diego and it has the same 8/5 pay table you will find on Bonus Poker and Aces and Faces Poker. If Ace$ Bonus has the same pay table as traditional Bonus and Aces and Faces for the full house and flush, then definitely take Ace$ Bonus as the game to play. At Caesars Palace in Las Vegas, I found 7/5 Bonus Poker and on the same machine the Ace$ Bonus game had a 6/5 pay table. And be careful that there is no hanky panky with other payoffs. You might find that two pair pays even money and if that's the case don't be fooled into playing. The big advantage with traditional Bonus Poker and Aces and Faces poker is the two-for-one payoff on two-pair.
You might also find that as you play Ace$ Bonus some strategy adjustments might be needed. For example if two of the Ace cards are in the proper order and the proper position, you might elect to drop a second pair, sacrificing the two-pair payoff, to try for the ACES combination. Below is a photo of quad aces that did not spell out ACES and this paid $2,000 on a $5/coin machine similar to what quad aces would pay on a traditional Bonus or Aces and Faces game.
AN UNUSUAL PAY TABLE FOR "ACES AND FACES" VIDEO POKER
Update December 24, 2011 On certain video poker machines at Harrah's Rincon Casino in San Diego County you will find a version of "Bonus Poker" that is called "Aces and Faces" video poker. What makes Aces and Faces different from traditional Bonus Poker is that the quads that get the larger payoffs are the Jacks, Queens and Kings. On regular Bonus Poker the quad deuces, threes and fours get the larger payoffs.
In the full pay version of Bonus Poker and Aces and Faces Poker, the full house pays 8 coins and the flush pays 5 coins for each coin bet. This is called an 8/5 Pay Table. At Rincon the 8/5 Pay Table on Aces and Faces applies for games at the $1, $2, and $5 denominations. There are also games that have a 7/5 Pay Table. But I found a few machines where at the 25-cent and 50-cent denomination the Pay Table has some unusual payoffs. Look at the photo below:
The Full House is increased from 8 coins to 10 coins. The Flush is increased from 5 coins to 8 coins. And the Straight is increased from the usual 4 coins to 6 coins. But the two pair payoff is reduced from the usual 2-to-1 payoff to even money.
I wrote about this on our Las Vegas Forum and I invite your comments. Please click here to go to the discussion.
AN UNUSUAL PAY TABLE FOR "BONUS POKER"
Update November 10, 2011 Video poker players are advised to look at the paytable of the game they are about to play to be sure there is no hanky panky. Casinos can significantly reduced their win -- and hurt your return -- by altering what many players expect to find on various "mainstream" video poker games such as Bonus Poker and Double Double Bonus Poker.
One of the common "alterations" made to Double Double Bonus is to lower the payback from 9/6 (nine coins for a full house, 6 coins for a flush) which pays 98.98% to 9/5 which pays 97.87-percent. Many of the Strip casinos in Las Vegas have 9/5 DDB while many off-strip or "locals casinos" offer the 9/6 paytable.
There can also be hanky panky with the paytable for Bonus Poker. The traditional Bonus Poker table is 8/5 which is 8 coins paid on the full house and five coins paid on the flush which pays 99.2-percent. But on the Strip some casinos have a 7/5 paytable which pays 98-percent.
But sometimes there are changes made that can benefit the player. At Harrah's Rincon in San Diego County I was checking pay tables on the high limit games because I was curious to see if the real high limit games have better paytables. Here's what I found:
Rincon now has a video poker room where you will find plenty of 8/5 Bonus Poker games in various denominations including 25-cents per coin. That game returns 99.2-percent and that is considered to be the "full pay version" of Bonus Poker. The 8/5 Bonus Poker paytable is also available on the big bet games including those with $25 per coin ($125 for five coins in) and with $100 per coin ($500 for five coins in) but these big bet games have an even better paytable because of a change for payoffs on quads.
This special version of Bonus Poker at Rincon treats all four-of-a-kind hands equally. There is no extra payoff for quad aces, or quad 2s, 3s or 4s. And instead, all of the quads are paid 175 coins with five coins bet.
Now consider on a traditional Bonus game, quad aces pays 400 coins and the little quads of 2s, 3s and 4s, pay 200 coins and all the other quads pay 125 coins. With the standard 8/5 paytable those traditional Bonus games pay 99.2-percent. But by making all quads pay the same 175 coins the payback is significantly higher at 99.6613-percent which is actually a better paying game than 9/6 Jacks or Better which pays 99.5-percent.
Now, perhaps this game with this paytable has a different name in other jurisdictions or other casinos? But at Rincon it's label "Bonus Poker." And this Bonus Poker really does give players a bonus... if you can afford to play it. Below is a photo of the pay table on a $100/coin game at Harrah's Rincon.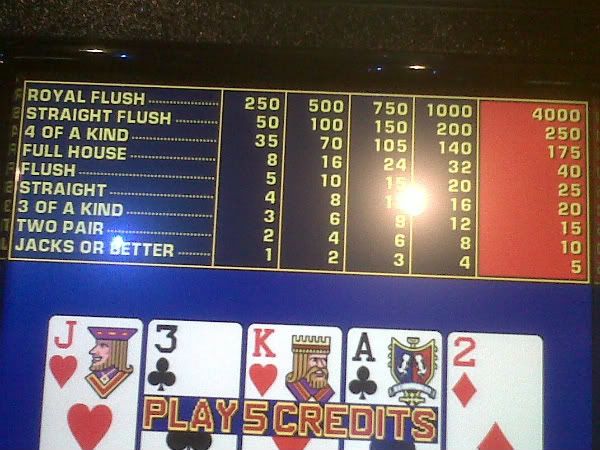 PLAY FREE VIDEO POKER TOURNAMENTS ONLINE, WIN CASH PRIZES
Update July 4, 2011 Hustler Casino, part of the Larry Flynt empire, now has an online casino that it is promoting through its website and in various radio ads. So I checked it out. What first got my attention were the advertisements about playing free online poker with the chance to win cash prizes without any cost or deposit. Hustler advertises its online casino as totally free and legal -- but you have to be able to stand a constant bombardment of text and video advertisements from sponsors.
But as I investigated the website some more, I found out that you can also play video poker on the site for free and there are tournaments with cash prizes. The prizes are small -- five dollars or so -- but there is no cost and you get a chance to play. The website is www.hustlercasinola.com and the registration is free. Just put up with the ads.
And there is something else that is very important: if you do play the free, real money tournaments, follow the rules carefully. The other night I played in a double double bonus tournament, hit quad aces with a kicker that gave me the full 2000 coin payoff and put me well out in front of the chip count -- but because I didn't finish all 50 hands in the limited amount of time I was disqualified. I actually had three times as many "coins" as the tournament winner -- but because I was five hands short I lost the money.
ROB SINGER: THE MOST CONTROVERSIAL NAME IN VIDEO POKER
Yes, Rob Singer is the most controversial name in video poker and he not only admits it, but it is also his badge of honor. Because, he says, the controversial comments and beliefs of his will save you money when you play video poker which has a huge, loyal following around the country. Some people believe that they can beat the casinos at video poker by following proper strategy as dictated by the math or odds of various cards being dealt and drawn over a long term or "life of the game." But one of Singer's controversial beliefs is that none of us is a long term player, and we never play for the "life of the game" and unless we use "hit and run" techniques we are destined to give back our winnings and then some.
Singer also disputes the published regulations of the Nevada Gaming Commission and says video poker machines are not truly and completely random and he makes that claim after documenting, he says, thousands and thousands of draws using real VP machines.
Singer is the author of newspaper columns and two books and the website www.vptruth.com. I discussed some of his controversial views with him in an interview in the high limit room of the Hard Rock Hotel and Casino in Las Vegas and my thanks to the management there for allowing us to videotape the interview in their video poker section.
Before you watch the interview, keep this in mind. The gaming regulations of the Nevada Gaming Commission are the model for all gaming jurisdictions and for all video poker machines used all over the country. The Nevada Gaming Commission says all gaming devices ( I would think that would include video poker machines) "must use a random selection process to determine the game outcome of each play of a game. The random selection process must meet 95 percent confidence limits...." Well, in most video games that 5-percent of doubt leaves a big window for losing.
The video interview was recorded on August 29, 2010 and it is below, complete and unedited. And below the interview is additional information and an update.
We have four pages of videos with Rob Singer explaining what he describes as his Special Plays for playing video poker. You can go to the first of those pages by clicking here and then following the links at the end of each page to see the other pages with other Special Plays on other varieties of video poker games.
MORE ABOUT MY INTERVIEW WITH ROB SINGER
Perhaps the most important thing that Rob Singer told me in that inteview came at the end when he said it is his strong belief that "the machines do not run 100% random." Now, please consider what the Nevada Gaming Commission has published on the Internet about its "minimum standards for gaming devices." These rules say, and I am quoting now, "the random selection process must meet 95 percent confidence limits." So perhaps Singer is not wrong when he believes that video poker machines "do not run 100% random."
However, I should point this out as well from the Nevada Gaming Regulations. This is also a key statement in the rules and it certainly appears to mean that all video poker games must be random: "For gaming devices that are representative of live gambling games, the mathematical probability of a symbol or other element appearing in a game outcome must be equal to the mathematical probability of that symbol or element occurring in the live gambling game." And that statement tells me that video poker, based on a 52-card deck or a 53-card deck can't have any hanky panky -- the same way a dealer can't manipulate the shuffle or the deal in a live game.
I conducted the interview and presented it here because I think it is important to present "the other view" about video poker strategy. Many casual players will identify with Rob Singer's strategy because they are not professional and they are not long term players and they will be satisfied with a small win rather than gamble for a larger win which might be exactly what the "correct strategy" tells you to do.
Here is an example of what I am talking about. In the game called Triple Double Bonus when dealt A-A-A-3-X (with X being an insignificant card), the "correct strategy is to hold the three aces and the 3 because in this game four aces with a "kicker" -- a 2, a 3, or a 4 -- is the same as a Royal Flush. However, many players will hold the three aces and drop the "kicker card" to give themselves a better chance at drawing the fourth ace for a secondary jackpot. Correct strategy says dropping the kicker is wrong, and you should take a 1 out of 47 shot at getting the equivalent of a Royal Flush. But are you tempted to just hold the 3 aces to give yourself a 2 out of 47 shot at getting a secondary jackpot of quad aces, or even drawing another pair for a full house?
Let me give you another choice in Triple Double Bonus: You are dealt A-A-A-2-2. The correct strategy is to break up the full house and hold only one kicker. Would you?
Below are more articles about video poker, including those reflecting "correct strategy." You decide how you want to play. That's why this information is presented here. I can't make up your mind and I can't play your money. But I have a confession to make. The night before I conducted the interview with Rob I was playing Triple Double Bonus and I was dealt A-A-A-3-J, and I only held the three aces. It didn't matter, because two insignificant cards were drawn and my triple-aces hand stood.
ROB SINGER UPDATE
Update September 20, 2010 There has certainly been a lot of publicity and discussion -- even furor -- over my interview with Rob Singer. And since the video appeared online I have been told about allegations that Singer will give lessons to players if the player will allow Singer to insert his own casino player's card into the VP machine so Singer, and not the "student" will benefit from the slot play during the lesson. Singer himself has told me that this is a fabrication of his critics and that it is absolutely not true. Singer also told me that the original online post of this allegation was made by someone who Singer says he never met.
To the casual reader, whose card is in the machine isn't much of an issue. But it is a violation of many casino "players card rules." However, does it violate any other rule or law? I don't know but I don't think it does. I admit I've put my wife's card in a video poker machine I've played so she can earn a few new credits so her " previous credits" don't expire after six months of non use. And if a "video poker student" allowed the "coach" to insert his card into the machine during the "training session" as compensation, all I can say is "so what?" Coaches are entitled to compensation and letting a coach get the credits from the video poker play seems like a fair trade to me. But -- and this is important -- Singer told me he has never done this. Well, I know poker pros who charge a fee for coaching, and I know craps players who charge a fee for instructing players about how to play. In fact, there are poker schools and craps schools. Charging a fee for video poker lessons?? Why not.
Like I said -- Rob Singer is the most controversial name in video poker.
KNOW THE GAME, KNOW THE STRATEGY
Before you place your first bet, it's wise to know the game and know the strategy. The other day I was speaking to some casino workers who supervise video poker games, and they told me about a very lucky young lady who hit a Royal Flush on a video poker game called "double double bonus." What made this young lady very, very lucky (and not just lucky as most players who hit a Royal Flush are) is that this player was dealt a king-high straight flush. Proper strategy tells you to hold a straight flush which pays 250 coins for five bet. But this player dropped the 9 to draw for the suited Ace for the royal. She was risking 250 coins (in this case it was $250 dollars) for the 1 out of 47 chance of hitting the right ace to make a Royal. Well, she got the ace, and how very, very lucky that was because she also could have drawn the 3 of diamonds and lost that $250. You might say this was an example of "dumb luck" because she played the hand wrong (which was dumb) but got the royal which was luck... so "dumb luck" is appropriate.
BIG PROGRESSIVES FOR VIDEO POKER AT HARRAH'S RINCON IN SAN DIEGO
If you want a chance at hitting a royal flush for a video poker progressive jackpot, then Harrah's Rincon in San Diego has plenty of games for you to try your luck and skill at. Harrah's Rincon has video progressive jackpots at its 25-cent, $1 and $5 double double bonus video poker games. Recently, the royal flush jackpots at the $5 game ($25 for five coins in) have paid $68,000 and $76,000. And at the $1 game ($5 for five coins in) the progressive royal flush jackpot paid about $4,600. The 25-cent game jackpot has sometimes exceeded $1,200 while a non-progressive royal pays an even one thousand dollars. All of these double double bonus games have a 9/5 paytable which is not the best paytable for double double bonus. The best paytable is 10/6 and some casinos might have 9/6. The progressives reduce the payout on the flush. But many casinos in Vegas have the same 9/5 paytable on their games without a progressive jackpot on the royal.
PRIMM, NEVADA, HAS GREAT VIDEO POKER
I was surprised to find out that the casinos at Primm, Nevada, on the border with Southern California along the I-15 has some fantastic video poker games with "full pay" paytables (the best video poker to play and some of these full pay video poker games even have progressive jackpots without reducing the pay table. We found these progressives with full pay paytables on double double bonus video poker at Buffalo Bill's and Primm Valley casinos. We didn't get a chance to scout Whiskey Pete's casino which is across the I-15 and under the same ownership and management but we think the same great games and paytables are also available there.
Anyone who plays video poker in Vegas knows that the best video poker games and the best pay tables can be found in "off strip" casinos, except for a few games such as 9/6 Jacks or Better which many of the major Strip casinos offer.
Well, if you go off-off-strip to Primm, Nevada, which is about 45 minutes south of the Las Vegas Strip casinos you'll find even better pay tables than what the off-strip casinos in Vegas offer -- and the Primm casinos even offer these top pay tables on 25-cents video poker machines. In Vegas, the 25-cent machines usually have reduced pay tables and the full pay machines are reserved for play on the $1 and up video poker machines.
The real surprise was at Buffalo Bill's casino in Primm which has some double double bonus machines which have a pay table of 10 coins for the full house and 6 coins for the flush with one coin bet. This is a 10/6 pay table and returns about 100% according to the various pay table guides we have seen. But what makes a particular group of 10/6 double double bonus machines even better is that if you double your bet (in effect playing 50-cents per coin instead of 25-cents per coin) the pay table is doubled so that a royal flush pays 8,000 coins and not the typical 4,000 coins -- and other pays are also doubled as well.
From what I've been told, this video poker game at Buffalo Bill's is far superior to the video poker you'll find in Vegas or the Indian casinos in Southern California. You'll note that at Harrah's Rincon the double double bonus progressive video poker games have a 9/5 paytable.
One of our readers had a video camera in the casino and got some video of the machines, the signage and the paytables. This is amateur video but we are going to show it here because "seeing is believing." Click on the video below to watch.
NICKNAMES FOR THOSE QUADS ON A VP MACHINE
One of the sweet times in video poker is to get four of a kind, also called 4oak or quads. In live poker, pairs get certain names or nicknames such as two aces are "rockets" and two 4s are called "sailboats," while the poker nickname for two deuces is "ducks" and a pair of 8s has the poker nickname of "snowmen."
When I get four aces, the doubling of the double rockets becomes a "missile strike."
When I get four kings, I say it's an "OPEC Meeting" because that's about the only other time when four kings get together.
Four queens remind me of a family gathering, but that's a private joke.
Some people call "jacks" by the formal name "Jacob," so quad jacks can become "four wise men" from the Bible. I think of jacks as judges, so quad jacks becomes "an appeals court" for me. (Okay, that's a stretch.)
If a "ten" is a perfect woman, than quad tens is a dream.
I guess quad 9s can be a litter of cats.
Quad 8s might be a day off from school because you'd have the time to make four snowmen on a snow day.
Four 7s is a big slot machine jackpot, so I call quad sevens "the jackpot."
Some people say trip 6s (that's 666) is "the devil's hand," so quad 6s must be Hell. But, it's a nice Hell.
Quad 5s. What about quad fives? Well, a pair of 5s is called the speed limit (55). So I guess quad 5s is "rush hour" or freeway traffic.
If you get quad 4s then your sailboats become "a fleet" of sailboats.
A three is called a "trey" so you need quad treys for the waiters at a banquet.
I guess you can call quad deuces a "flock."
I have to admit that a rocket attack or a missile strike of quad aces is my favorite hand, and that hand is so much better in video poker when the rockets hit a kicker (bonus card) such as a duck (a deuce) or a sailboat (a four) or a trey (a three) for a bonus payoff in double double bonus. But it's fun to have three kings and as you push the draw button you say -- "come on, one more king for an OPEC meeting." And then when you get it, you can say proudly, "I got an OPEC meeting" and enjoy the stares from other players around you.

And there is one universal word that describes a royal flush -- "wonderful."
A VIDEO POKER MACHINE IS NOT A SLOT MACHINE
Many people think of video poker machines as being slot machines, but in fact video poker machines are different. A video poker machine chooses outcomes from a deck of 52 cards, or from a deck of 53 cards if there is a "joker game." Because the "universe of decisions" is limited to a total of 52 or 53 cards, players can in fact determine a strategy that will result in the best odds of playing various "hands."
Not so with true slot machines. With true slot machines, the player has no control and often no idea of what the odds are for winning. However, in certain states, there are requirements that slot machines "return" at least 85% of the money bet. With video poker, some games can return 99% or more of the money bet with "perfect strategy."
But what if the video poker player does not follow perfect or correct strategy? Then the player is shooting himself, or herself, in the foot. I see players all the time making the wrong move and holding the wrong cards in video poker. I used to be frustrated by that-- but now I am thankful that they play incorrectly. The truth is, because they play incorrectly the casinos are more likely to keep the payoffs where they are so players like me who follow correct strategy will have a better chance of winning.
Recently, I saw a player at a double double bonus video poker game making mistake after mistake. She often held an ACE with an unsuited HIGH CARD such as a Jack or Queen. That's a "no-no" in double double bonus where an ace by itself has tremendous value because of the possibility of getting four aces or four aces plus a kicker or bonus card such as a 2, 3 or 4.
During a moment when the other player was taking a break, I said to her -- do you know about holding the ace alone? "Yes," she said to me, "I know what the strategy says, but I do what makes me feel good."
That was the end of the discussion, and she went back to playing "her way." And she went back to killing her chances for getting four aces or getting a royal flush because she held one or even two unsuited cards along with her ace. (By the way, if you have a suited high card with your ace, you do keep both, such as Ace and King of hearts.)
So now I know to thank players like that -- players who shoot themselves in the foot. Because those players are allowing the casinos to keep more money and to keep the payoff tables as high as they are for players like me with a better chance of winning those big payoffs.
VIDEO POKER CONVENIENCE OR A RIP OFF?
Anyone who is a regular player of higher limits video poker -- at the $5 level and up -- knows how troublesome it is to have to wait for a W2G every time you hit 4-of-a-kind that pays $1,250. After all, the IRS requires a W2G for slot machine wins of $1200 or more.
Some slot machines have reduced wins to $1,199 or $1,195 to avoid the hassle of issuing a W2G. But in video poker, on double double bonus games quads usually pay at least $1,250 requiring a W2G.
Well, at Pechanga casino in Temecula you might find the pay tables a bit different. On double double bonus games, and on games such as Super Aces Bonus, many quads pay $1,195 or 239 of the five-dollar credits, not the $1,250 or 250 five-dollar credits that you usually see in Vegas.
At first blush, it might appear that Pechanga is doing the player a favor, by eliminating a W2G for such hands as quad-kings, or quad-sevens. But are they really doing you a favor or are they ripping you off with a reduced pay table?
When you think about it, you are getting a reduced pay table, and the payoff on certain quads is cut by slightly more than 4%. In video poker, where the traditional house edge is only one or two percent, a four percent cut in a payoff is a big thing.
The fact is, Pechanga is not doing you any favor at all with a reduced pay table for certain four-of-a-kind hands. They are cutting the payout, and boosting their profit margins on the machines.
DO YOU READ THE PAY TABLES ON VIDEO POKER MACHINES?
If you want to know which is the best video poker machine to play the answer is right before your eyes -- on the "pay table" that every video poker machine has. Generally you want to compare the payoff amounts for a full house and a flush, because with most games, the difference is with the full house and flush payoffs.
But with some of the exotic video poker games, the pay tables have big differences from the top -- a royal flush -- to the bottom which might be a high pair.
For example, several of the Indian casinos in California offer a game called Joker Poker which is played with the 52 regular cards plus a joker that is wild. If you look at the pay tables on this game, you will see many varied pay tables even for Joker Poker played at the same denomination.
For example, I found 25-cent Joker Poker games with a Royal Flush without a Joker paying only 500 coins while other 25-cent Joker Poker games pay 4700 coins for a Royal Flush without a joker. Of course there are other differences with these pay tables, including the payoff for 5-of a kind and whether you have to have two-pair to get your money back, or if just a pair of Kings or Aces will get you your money back.
The difference in these pay tables over the long run can mean only a few percentage points. But in the short run, a Royal Flush returning only 500 coins could be devestating.
VIDEO POKER "TEAMS" HIT HARRAH'S RINCON CASINO IN SAN DIEGO
If you've ever played in the high limit slots room at Harrah's Rincon Casino in San Diego, you know that there is a bank of $5 "double double bonus" video poker machines with a progressive jackpot for the Royal Flush. In early April, 2009 the progressive topped $40,000 and in late April, this progressive royal "hit" at nearly $36.000. (See the photo of the win below.) If you are familiar with the game, a "standard" royal flush is worth $20,000 on this denomination game.
Well, as you might imagine, when the progressive royal gets high enough there is a lot of interest in these machines, and it is not unusual to see "a lot of strange faces" at the machines according to some of the slot hosts in the high limit area. These "strange faces" are usually members of a "video poker team" who pool their resources and will share in the win should they hit the Royal.
I was told that one of the "teams" that comes to Harrah's Rincon is made up of players from Las Vegas. "They take up all of the seats," a slot host told me, "and they play and play and play until the progressive is hit. And then they leave."

Video poker "teams" are usually well bankrolled, and are made up of expert players. "Most of the teams come from Vegas," a slot host told me. What makes a visit to Rincon profitable for them is not only the extra payback from hitting a high payoff royal flush, but also the high level of comps that they can earn playing a high limit machine such as $5 double double bonus video poker which requires a bet of $25 to win the progressive jackpot.
"When the jackpot is won, the team members are gone," a slot host told me. "But they come back." The progressive royal flush jackpot at Harrah's Rincon can reach $40,000 or more five or six times in a year, I was told. As you can see in the photo below from Harrah's Rincon in San Diego County-- big jackpots do hit here in Southern California.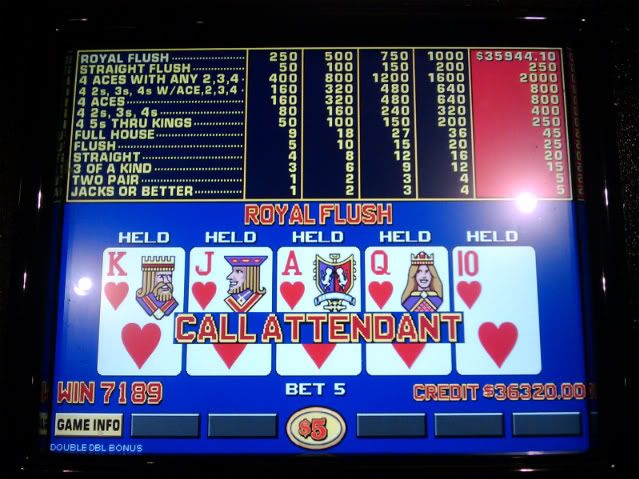 PLAYING WITH CORRECT STRATEGY IN VIDEO POKER
You have to have "luck" when you play video poker at a casino. Luck is determined by what cards the machine deals you -- the cards you have to play. Without luck you'll be dealt unrelated "rags" or cards that can't possibly create a winning hand. Bad luck is being dealt a hand like 2 of hearts, 7 of diamonds, 9 of clubs, 4 of spades and 10 of hearts. You have a really worthless hand with those five cards so it would be better to discard all five and draw five new cards.
With luck, you might be dealt a pair of Jacks, and a nine and a 7 and deuce -- and you would hold the pair of Jacks which in many games is a paying pair. And with this pair of Jacks you might draw a third jack or a fourth Jack for quads -- or you might draw another pair or trips and get a full house.
But it is vital that you know the "correct strategy" to maximize your return. Let me give you an example -- this happened to me at Caesars Palace in mid-April.
I was playing Double Double Bonus -- and what makes this game special is that 4-Aces pays a big bonus, and 4-Aces with a kicker (a 2, or 3, or 4) pays a jackpot amount.
Three times I was dealt a full house with 3 aces. The first time I was dealt AAA-TenTen, and the second time I was dealt AAA-55, and the third time I was dealt AAA-TenTen again. Correct strategy in this game calls for giving up the full house, keeping the three aces, and trying for the fourth ace and possibly a kicker for the jackpot.
You might be hesitant to give up the full house, because a full house with five coins played might pay 45 coins, and three aces alone might pay only 15 coins. On a $1 machine, that's a difference of $30. But believe me-- you want to sacrifice the $30 for the chance of getting a fourth ace (worth $800) or getting a fourth ace with a kicker (worth $2,000).
Well, the first two times I was dealt a full house with three aces, I held the three aces, and my hand did not improve. But the third time that I held the three aces, I got the fourth ace and a 3 for a 2,000 coin jackpot. Sometimes you have to sacrifice a pat winning hand for a chance for a big, big win.

LIVE POKER VS. VIDEO POKER
I've been playing both forms of poker over the years -- live poker including poker tournaments at various Southern California casinos including Pechanga, Bicycle, Commerce and Hollywood -- and video poker at Pechanga and Morongo here in California.
Video poker cannot be played in the card clubs such as Commerce and Hollywood and Hustler Casinos because a state proposition that would have allowed such gambling failed when presented to voters. So, if you want to play video poker you have the option of going to one of the Indian casinos, or going to Nevada. But that's not what this article is about.
This article is about why I like video poker better. I like it better because it is me trying to win against a machine using a solid strategy of which cards to play and which cards to throw out. It's a strategy that is taught by books using computer models. You can actually learn this strategy. This doesn't mean you will win. In fact, over the long run you are likely to lose playing video poker. That's why it should be played for entertainment and not as a means to earn a living.
What's different about live poker is that you are playing against people -- people who lie (it's called bluffing), people who will force you out of a hand with a big bet (and you had the better cards), and people who will act as though they have the better hand.
In other words, there are more variables in live poker than with video poker. There are the human factors in live poker that I just don't like.
Frankly, I'd just rather play against a machine with the knowledge of how to play certain hands. For example, in Double Double Bonus Video Poker when I am dealt a full house with three aces, I know to discard the other two cards hoping to get quad aces. That strategy to hit the fourth ace (and maybe a kicker - a 2, 3 or 4 with the fourth ace) is a lot more fun that wondering if Joe or Bob are bluffing or trying to push me off my pair of Queens with a big bet?