WSOP CIRCUIT RETURNS TO THE BICYCLE CASINO
Update January 14, 2017 The World Series of Poker Circuit Event return to the Bicycle Casino in Bell Gardens in March with tournaments including ring tournaments running from March 2nd through March 31st. This will be the only stop for the WSOP Circuit in the Los Angeles area and this year the Bike has a new hotel adjacent to the casino which might help to attract more out-of-town players.
MORE FAILURES FOR CAFRINO ONLINE POKER
Update June 1, 2016 There were more failures for the Cafrino online poker website today and the failures came on several levels. It is another sign that the online poker website which says it is in its "Beta testing" is certainly not ready for real, for money gaming, when and if California legalizes online poker. Legislation to legalize online poker is making progress in the California legislature.
Today's failure involved a $1 tournament when there were only four players remaining at the final table. The software crashed and the tournament stopped. I was one of those final four players and I could not return to the game. Support at Cafrino confirmed the problem. And there is another problem. Each of the final four players were "in the money" and one of the four would have won the top prize. We're not talking about big money here -- the top prize is 30-cents. Support at Cafrino says it has no way of knowing who the final four players were and it cannot make any real money payments to any of the final four at the final table. This means players who busted out earlier in the tournament received their payouts, but the final four will not receive anything.
Cafrino offered me 1200 of their "tournament chips" which are actually worthless except that you can use them to buy into certain tournaments. They have no cash value.
Cafrino is currently running a free-to-play site that is supported by advertisers through a continuous stream of commercials. The failure today indicates this site isn't ready to host real money tournaments where players pay to play. The gaming software can't be trusted and now Cafrino admits it can't even keep track of the players and what their chip positions were. An email from Support said:
"It's not about the money. It's about having the ability to find the list of players and their ranking when the crash happened."
How could a company like this be allowed to operate if online poker is legalized and real money play is allowed? The answer is this company shouldn't be allowed to operate if online poker is legalized.
WOMEN GET A DISCOUNT AT THE WSOP. IS THIS LEGAL?
Update May 13, 2016 I was taking a look at the schedule for the 2016 World Series of Poker Tournaments and I noticed that on Friday, July 8th, event #65 is the "$10,000 Ladies No-Limit Hold'em Championship." Of course it's not unusual for the ladies to have a no-limit championship and it's not unusual to have a $10,000 entry fee for a prestigious event like a Ladies Championship. But what is unusual is that ladies are getting 90% off the buy-in for the tournament. Yes, on the official listing for the tournament it clearly states "90% off for ladies" so this must mean that men entering the tournament must pay full price.
In recent years, and at various casinos and tournaments, men have been entering ladies' events. To close the events to men, it has been decided, would be discriminatory.
Well, is it also discriminatory to charge men the full $10,000 when women can play in the same tournament for only one-thousand dollars? Is this 90% discount for women legal?
We've come to accept senior citizen discounts at restaurants and movie theaters, and we've come to accept kids' discounts at restaurants and movie theaters. Are we ready to accept gender discounts at restaurants and movie theaters? How about race and religious discounts at restaurants and movie theaters? But gender discounts at a poker tournament called a ladies tournament is okay, right?
Clearly, this pricing structure for the Ladies No-Limit Hold'em Championship is an attempt to keep men out. Frankly, I don't know why men would want to play in a ladies' event, but some do. That's too bad. It's also too bad that the WSOP feels the only way to preserve the tournament for the ladies is to give the ladies a 90% discount and charge men full price.
Let's get back to the "legal" question. To answer it, I think we need to know the true price of the tournament. I say that because there is law concerning how gasoline and other consumer products are priced.
At a gas station you often see two prices: a cash price and a credit card price. According to federal law, it is okay to offer a cash discount but it is not okay to charge a fee for using a credit card. So at gas stations the true price is the credit card price. Let's apply that to the poker tournament. If the true price of the poker tournament is $10,000 then using the gas station example it may be legal to give ladies a discount -- as if they were the cash customers.
However, when I checked the history of the Ladies' Championship, I found that the historical price was $1,000 which might very well mean the men are paying a penalty price, even though the WSOP advertises it as $10,000 tournament with the women getting a 90% discount.
I'm not opposed to a special tournament for women just as I'm not opposed to a tournament for seniors and for seniors 65 and older. I just think it's sad there are men who want to crash this ladies' tournament and others.
What is everyone going to do if they ever have to have a transgender tournament to go along with the transgender rest rooms?
CALIFORNIA WILL NOT HAVE PARLORS AND CLUBS TO PLAY ONLINE POKER
Update May 6, 2016 Legislation is now working its way through the California legislature which might soon legalize online poker in the state. The lesislation has passed several hurdles in the State Assembly. What's curious about the legislation is Assembly Bill 2863 (AB 2863) is that it seems to prohibit brick and mortar establishments from being set up to host online poker tournaments. In other words, if a casino in the state wanted to set up a room with computers so it could offer a room for online poker play, the wording in the legislation says it can't be done.
Here is the exact wording in the legislature's own analysis of AB 2863:
The bill would provide that it is unlawful for a person to aggregate computers or any other Internet access device in a place of public accommodation within the state, including a club or other association, or a public or other setting, that can accommodate multiple players to simultaneously play an authorized Internet poker game, or to promote, facilitate, or market that activity.
It looks to me like the legislation only wants private play in a private setting whether it's at home or in your office or your car, for that matter. That's not a bad idea because it would prevent (in a perfect world) players to get together to conspire to win a tournament or a game by exchanging information. But as we all know, a law on the books of California would not be able to actually prevent this because players out to cheat are going to cheat anyway.
What the law does prevent is a California card club or a Native American Casino in the state, from setting up and operating an online poker parlor or club. That could be an unfortunate consequence because I can envision a card club or Indian casino in the state arranging to have its own online tournaments for players in a ballroom, or having an online poker room. Those types of group play could be monitored with cheating prevented.
I can also envision card clubs and casinos within California arranging private tournaments using the online poker casinos. Not allowing that option also cuts into the possible tax revenue that the state could get.
The legislation as it is explained, also prevents coffee shops and bars and restaurants and donut shops from setting up online poker rooms where customers could play while enjoying their Mochas and Martinis and burgers and glazed bear claws (it's a donut). That also cuts down on the potential for online poker tax revenue as well as additional sales tax revenue for legitimate business.
On the other hand, by limiting play to individuals with their own computers, it will prevent having dozens and dozens online poker clubs and lounges springing up on every street corner. And we have enough of a similar enterprise already doing that -- the marijuana collectives who appear to be on every street corner.
CAFRINO.COM ONLINE POKER IS STILL NOT READY FOR PRIME TIME
Update May 6, 2016 About three and a half years ago I wrote about the free, online poker website Cafrino.com and said it was not ready for "prime time" and it's still not ready for prime time. This website has too many problems for any serious play, which is why nearly four years later it is still in "Beta testing" and still can't offer anything but tournaments with prizes that range from a low of one-cent to perhaps $50 or $100 cash.
It seems that whenever you play on this site there are problems with its software, or the site simply freezes you out. The latest example happened to me tonight early in a free tournament with a modest prize pool. I was dealt pocket 4s and tried to make a bet but couldn't. The site froze on me. The flop came and I would have flopped a set and I would have won a big hand.
I've been writing about this free-to-play online poker site http://www.cafrino.com/ and I am sorry to say that the same problems that started four years ago continue today. Fortunately this is a free site giving small prizes and charging players nothing.
But it is possible that California will soon have legal online poker and I am sure Cafrino will want to be one of the companies getting an online license. If the current software is the best they can do, Cafrino should not get a license. There are other problems the site has including players can't see the cards they are dealt, or can't see the community cards, or can't bet. One of the most common problems I've had is that I am "timed-out" because the site will not let me fold. Imagine that -- trying to hit the fold button on the screen and the site doesn't respond. If you are timed-out too many times you are disqualified from the tournament. Cafrino is an advertiser-supported online poker site. It's a good idea but it just doesn't work. If you play it, don't have high expectations. Several times players have held AA or KK as pocket cards and were folded by the software.

Cafrino.com website froze blocking my bet with 44.
Hit a set on the flop and would have won a big hand.
DAILY POKER TOURNAMENT SCHEDULE AT THE BICYCLE CASINO
Update April 1, 2016 The Bicycle Casino in Bell Gardens, near Los Angeles, is resuming its daily poker tournament schedule after a hiatus to host the World Series of Poker ring events. You will find the complete daily tournament schedule by clicking here for The Bike's website. There are several tournaments with low entry fees including daytime tournaments with a buy-in as low as $40.
THE WORLD SERIES OF POKER, THE RIO, AND THE CAESARS BANKRUPTCY
Update February 28, 2016 It's no secret that Caesars Entertainment would like to sell The Rio Hotel and Casino in Las Vegas. The Rio is the off-strip property in Vegas that hosts the World Series of Poker. Caesars is also the troubled gaming company with one of its biggest units -- the unit that includes Caesars Palace -- in bankruptcy.
Caesars Entertainment has been trying for years to sell The Rio but while there are other casino companies who have shown interest a sale has been impossible for one main reason: when The Rio is sold the World Series of Poker will be moved. The reality is the WSOP is what makes the Rio an attractive property, and without the WSOP no one wants it.
Actually The Rio isn't that attractive. It's rundown. It is in need of renovations and repairs. There have been problems with its electrical and plumbing systems. It stays open only because of the WSOP.
If The Rio did get sold -- and the buyers would accept it without the WSOP -- where would Caesars move the World Series of Poker tournaments? The answer is clearly Caesars Palace where there is a huge and rarely used Convention Center behind the swimming pools. I haven't heard of an event in the Convention Center at Caesars since a New Year's Eve concert and banquet for hundreds of guests maybe fifteen years ago. Besides the huge Convention Center there are other ballrooms on several levels of the towers inside Caesars Palace. Clearly Caesars has the space to run poker tournaments for thousands of players.
There is also plenty of parking available throughout the area and setting up shuttle buses to parking areas would not be a problem. Besides that, if Caesars ever struck a deal to sell the Rio, I am sure the deal would include access to the parking at The Rio which is just behind Caesars Palace.
So who might buy The Rio? There isn't much reason for anyone to buy it today. Las Vegas still hasn't recovered from the financial meltdown and recession that started about 8 years ago. And before anyone would buy an older property in need of renovation such as The Rio potential buyers would want to see if all of the new hotels built by MGM in City Center and other new properties up and down The Strip can also be filled.
The current bankruptcy and financial crisis at Caesars Entertainment might force a different strategy. I wouldn't rule out Caesars selling off The Rio at a distressed price without the WSOP just so that it can build up the value of Caesars Palace which is key to its unit now in bankruptcy. Moving the WSOP to Caesars Palace and bolstering the Caesars Palace unit of Caesars Entertainment while sacrificing The Rio just might be the key to keeping the entire Caesars Entertainment empire intact.
CAESARS HAS ONLINE POKER FOR REAL MONEY
Update February 22, 2016 Caesars Entertainment, the giant brick and mortar casino company that also owns The World Series of Poker and www.wsop.com, also offers Online Poker for real money to its hotel guests as well as those who are within the state of Nevada.
You can play online poker anytime, anywhere in Nevada at WSOP.com. You can even earn Reward Credits on the Caesars Total Rewards system when you play. Reward Credits are the "comp points" in the Caesars Total Rewards players club program. Ironically, Caesars actually promotes playing online to guests staying in their hotels. There are signs in the casinos telling guests that they can play online poker while on the property and I find that ironic considering that Caesars is telling guests in their brick and mortar casino resorts that they don't have to go to the casino floor or to the poker room to gamble.
MAKING POKER TOURNAMENT PRIZE POOLS RICHER WITHOUT RAISING ENTRY FEES
Update January 23, 2013 It appears that several casinos have adapted the idea of multiple-entry poker tournaments and multiple-day entry poker tournaments as a way to increase prize pools without raising entry fees. Here in the Los Angeles area, the Bicycle Casino and Hollywood Park Casino have been holding multiple-day, multiple-entry tournaments to generate bigger prize pools.
The latest of these multiple-day, multiple-entry tournaments has just been announced by Hollywood Park. The tournament starts February 22nd and there are multiple-entry days every day until March 2nd with the final round on March 3rd. Each day of the tournament, 6-percent of the field will advance to the final day of play, and then 10% of the players on the final day will be "in the money." The winner is guaranteed $50,000 minimum and the casino has guaranteed a $200,000 minimum prize pool.
Each day's entry is $100 for the buy-in with a $60 rebuy. And a player who makes the 6% more than once gets $2,000 cash for each additional entry to the final day of play.
What Hollywood Park is doing here, and what other casinos have done including The Bike, is adding the number of entry dates so that the tournament and the prize pool can be bigger. The casinos could have run daily tournments, but by running a multi-day, multi-entry tournament they can build up the prize pool and certainly a $50,000 first prize is going to attract a lot more entrants than a daily tournament with perhaps a $5,000 first prize.
The Main Event at the World Series of Poker also is building a bigger prize pool with its $10,000 entry over several days. If the WSOP Championship were limited to only one day of buy-ins, the field would be smaller and so would the payouts. Of course at the WSOP multiple days for entry are needed because of space and dealer limitations. Someday, there might have to be even another day or two of "first day play" at the WSOP. And if some of the other daily bracelet events at the WSOP continue to grow, they too might require more than one day of "first day play."
The Bicycle Casino (also known as The Bike) also has a multiple-entry event on the weekends which tends to generate bigger prize pools.
These multiple-day, multiple-entry events do help to boost prize pools and paydays for the winners, but they also raise the number of players and may make it harder to finish in the money because of the sheer size and rules that allow players to "re-buy" and enter again.
I like the "old rules" where a player cannot buy in a second time, or a third time. I think that is more fitting for a tournament. But in the upcoming multi-entry, multi-day tournament at Hollywood Park in late February, players will have nine chances to make it to the final day. Yes, players can take advantage of all 9 lives in this event at Hollywood -- as long as they have the money.
HARRAH'S RINCON CASINO SHUFFLES AROUND ITS POKER ROOM AGAIN
Update December 1, 2012 Harrah's Rincon Casino in San Diego County has shuffled around its poker room again. The poker room was originally near the "sports bar area" but then was moved upstairs in the hotel tower so that the downstairs area could be turned into a "video poker section." Well, Harrah's Rincon has changed the poker room location again.
Rincon poker area back on the main casino floor.
Next poker room shuffle is when the new casino opens.
The poker room -- if you want to call it that -- is now back on the main casino floor near the sports bar area again. But now, instead of being an isolated and quiet room suitable for poker which what it was upstairs in the hotel tower, or instead of being in a side room that was somewhat isolated from the hustle and bustle of casino traffic, the new poker area is on a main walkway opposite the sports bar and between slot machine areas. It is not a good set up for poker.
I asked one of the supervisors about the move, and he said it was "permanent until the new casino expansion is finished." And then, he said, the poker room will really be a poker room in the new, expanded casino. Rincon is now adding a new hotel tower and a larger casino is part of the big project.
The "poker area" which is now dubbed the poker room has been used before during WSOP Circuit Events at Rincon. This area outside the Pavillion where the big tournaments and other events at Rincon are held has been used for sit 'n go and one-table tournament games.
In reality, Rincon does not have much of a "poker business" and nearby Pechanga Casino dominates the poker scene with a big, gorgeous poker room and a great poker staff and lots of tournaments and lots of tables. But it is encouraging to see that Rincon is planning for poker in the future along with the new hotel and casino expansion project. However, I think true poker players would still rather play upstairs in the hotel tower conference room that was converted into a poker room because of the quiet.
ONLINE POKER SITES OPERATING IN THE USA
Update October 13, 2012 There are several online poker websites operating in the United States and it appears that they are all legal operations because you don't have to pay any money to play. These sites do offer small prizes and they can offer the prizes because the sites carry advertisements and the revenue from the ads fund the prize pools for tournaments. Several brick and mortar casinos have these online sites including the South Point in Las Vegas and the Hustler Casino in Los Angeles. These casino-branded sites are actually operated by an independent company. But now an independent site operator is running its own site without a brick-and-mortar casino brand.
The new online poker site without a brick-and-mortar casino brand is www.Cafrino.com which is free to join. I joined it and I've been playing single table game for "points" and there is also a daily multi-table tournament with a $50 prize pool. Typically the first place pays about $11 so you're not going to make this a full time job.
The graphics are simple and clean. If I have a complaint it's that the audio warning about time are soft and sometimes difficult to hear -- even when you adjust the volume on the computer. The commercial ads are audio and video ads that play during the game, and that's OK. They have a good system for showing the commercials which are typically 30-second TV commercials: they play in the center of the table while you are waiting for a game to start or when you are not in a hand. Be prepared to watch the same commercial over and over again because so far the company appears to have only a few advertisers.
This site is being funded by investors and I am sure it is an attempt to stake a claim on the Internet poker turf for when and if full online poker for money is allowed. It is also possible that this company or others might set up intrastate poker sites because under existing federal law the states are allowed to authorize online poker that is restricted to players within their state.
Another problem with this site is that it is still relatively unknown, so you could be waiting a long time for a table to fill so a single table game can start. The multi-table tournaments have a fixed start time so waiting for players is not a problem for those games.
LITTLE CARDS CAN WIN BIG POTS
Update September 7, 2012 Poker players covet the big cards -- the pocket aces, the pocket kings, the Ace-King suited which is often called the best drawing hand and the most powerful hand in poker. But experienced players know that sometimes little cards can win big pots, because the flop sometimes comes "small." Take a look at the photo below of an $800 stack. This was taken after a hand at a $100 buy-in game of No Limit Hold'em at the Hollywood Park Casino. Most of those chips were won in just one pot -- and with small cards.
This wasn't won with AA or KK.
Just a lowly 4 and 5 of hearts.
Here's what happened. I was the big blind with $3 on the table. After the hole cards were dealt, the player who was first to act raised to $10. The next player re-raised to $30 and then three more players called the $30 raise. As I looked at my hole cards I thought that I was "priced in," meaning I was getting a good return on my money -- if I got lucky with my cards. And what were my cards? I had small, suited connectors -- the 4 of hearts and the 5 of hearts. As I looked at my cards several thoughts raced through my mind. First, it was likely that the "raisers" had big cards and those calling also were playing "big cards" which meant that perhaps only small cards were left in the deck? Secondly, just recently, playing 5 of diamonds and 6 of diamonds also from the big blind I won a big pot making a full house of 6s full of 5s -- beating a player who had pocket kings and other players playing Ace-Queen and Ace-Jack. I had a profit, and I reasoned, I could afford to take a gamble and see the flop. I called. The player who started the action with a $10 raise also called the $30 re-raise.
I will spare you the boring details, but I flopped an open-ended straight draw with a five on the board giving me one pair. The flop was 3, 5, 6. Everyone checked after the flop, which convinced me that the others were all playing "big cards," and then came the turn card and the turn was a Jack and I made the judgment that a flush on the river was unlikely. I checked and the original raiser checked and then the player who re-raised to $30 went all-in. Two other players went all-in. One player folded.
I went all in with this reasoning: I had an open-ended straight draw and one pair (fives) and I had "outs." Unfortunately a small straight flush draw was not one of the possibilities. But I had to call. On the river came a deuce, there was no chance of a flush, and I knew that my 6-high straight was "good." The only thing I had to dodge was that a player had a 7-high straight. No one had a seven-high straight. The player who initially raised to $30 had Ace-Jack and the other players all had big cards without a pair. The big pot was mine with the little cards.
You have to be very careful playing small cards. In my case, the flop came in such a way that I couldn't fold. But had "picture cards" came on the flop or even a medium or high pair, I knew my 5h,6h were doomed to fail. Sometimes when everyone is betting and raising you have to think that they are holding big cards -- because betting and raising is what players do with big cards. Players with small pairs and small suited connectors hope to see a flop for cheap. But when you have small cards and the others are betting big, you have to be a contrarian and call to see the flop hoping the only cards left to come are the small cards you need to win.
IT'S GOOD TO BE SITTING AT A POKER JACKPOT TABLE
Update August 15, 2012 I am writing this just a few hours after a bad beat jackpot was hit at Hollywood Park Casino. Quad Jacks beat Aces full of Jacks. There were only two players in the hand. The player with AA raised the big blind, the player with JJ went all-in, and the player with AA also went all-in. The flop came JJK and an Ace came on the turn, and when both players flipped over their cards it was a very happy table. This is one of the few times it's good to lose with pocket Aces. In this case the player with AA won about $4,000 and the player with JJ who won the hand won about $2,000. The player with the "bad beat" gets the bigger payoff. There were seven other players at the table and each of them was paid a "table share" which was $620.
Quad Jacks beat Aces full of Jacks.
Hollywood Park Casino. $100 No Limit Hold'em.
Bad beat jackpots are not the same and have different rules at different casinos. Some start their bad beat jackpots at $10,000 and some start at $20,000. Some bad beat jackpots require that Aces full of tens must be beaten by quads or better (a straight flush or a royal flush), while at other casinos Aces full of anything beaten by quads or better qualifies for a jackpot. At Hollywood Park Casino Aces full of 9s or better beaten by quads or better with "both cards playing" is required for a bad beat jackpot.
Sometimes Aces full of tens loses to quads but the player with quads didn't have a pair, and in that case a bad beat jackpot might be awarded. Check with the rules at the casino. Some casinos have special payoffs when quads beat quads, or quads lose to a straight flush or a royal flush, and again this varies by casino. And then there are some casinos that don't have bad beat jackpots.
In the case of last night's jackpot at Hollywood Park Casino, it was a nice payday for the players who folded their cards -- they received a table share of $620 just for sitting there and taking a hand, and I was one of them. If a player was "sitting out" of the hand, or stepped away to go to the restroom, or went outside for a "smoke" they would not be eligible for the table share. This has happened and sometimes (but not always) the players who did get a payoff will give the excluded player something. And the reasoning is that if the player had been sitting at the table, then the hands would not have been dealt the way they were and there would have been no jackpot.
It is always interesting to see how the dealer and other casino personnel are tipped after a jackpot. I've been told that the dealer should get something around 10% of the jackpot amount, with the lion's share of the tip coming from the player who lost the hand and the player who won the hand, with the "table share" players tipping less. But there are always stories about a player who tipped ten dollars when they won $5,000 or more because either they didn't know any better or didn't want to part with the money. Tipping, of course, is a personal decision, but I've always tipped about ten percent even on "table shares" that I received just for sitting at the table.
PECHANGA'S BAD BEAT JACKPOT REWARDS ALL PLAYERS IN THE ROOM
Update January 5, 2012 Many casinos offer bad beat jackpots in their poker rooms but the bad beat jackpot at Pechanga Casino in Temecula pays even players who are not at the bad beat table. The Pechanga bad beat jackpot pays all players in the poker room. And, it hit again on New Years Day paying two people a lot of Happy New Year money, the other players at the table a big chunk of money, and then there was a Happy New Year greeting for everyone else in the poker room.
More than 250 players in the Pechanga Poker Room had a share in the Mega Share Bad Beat Jackpot when it hit for $157,346.00 on New Year's Day at 6:25 PM. The loser of the bad beat hand was paid the most. Together the winner of the hand and the loser of the hand shared 50% of the jackpot. These two players each had a straight flush in spades.
Thirty (30) percent of the jackpot ($47,322.00) was paid to the losing hand of 2s,3s,4s,5s,6s , held by Irene Orona of Perris. The higher straight of 4s,5s,6s,7s,8s, held by Chinh Hoang of Placentia, won the game pot, but it took second in the jackpot payoff, with 20 percent or $31,469.00. Such is the nature of a "Bad Beat" jackpot, where the losing hand wins. Seven other players at the table got equal shares of 30% of the jackpot, or $6,743.00 each, and 256 other players of live Hold 'Em games (39 other tables) received an equal cut of the last 20% of the jackpot, with everyone taking home $122.00 just for being in the room.
From time to time, other casinos have had "room shares" or shares for all players in the casino during certain promotions. Hollywood Park Casino in Inglewood used to promote a share for all players when a super bad beat occurred during certain times. But for the most part, bad beat jackpots are limited to the players at the table where the rare event occurs.
EVEN THE PROS LOSE WITH THE BEST HANDS
Update October 29, 2011 I just played in a charity poker tournament at The Commerce Casino and the field of players was filled with celebrities from Hollywood and local TV as well as several of the top professional poker players. Men "The Master" Nguyen and Annie Duke were both among the field of professionals who took part in the tournament to support both The Renal Support Network which helps those with kidney disease and Hands Across the Ocean which helps families in Vietnam.
I was fortunate to play with Men at two tables during the tournament, at the first table when the tournament started and later when only four tables remained. I paid particular attention to how Men played because it isn't often that I get to play with a true "master" of the game and someone who has won millions playing poker. Below is a photo he graciously took with me.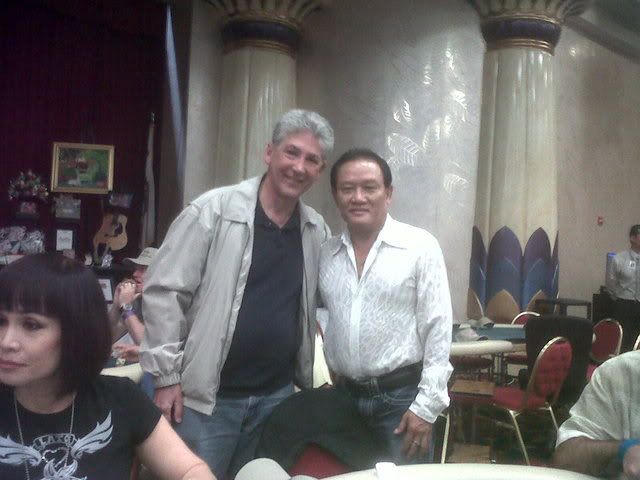 First of all, he's a gentlemen. Before cards were in the air I handed my cell phone to a player across the table and asked him to take my picture with Men -- and I didn't have to say a word to Men. I was two seats away from him and as I got out of my seat to step over to him he stood up so the photo could be snapped. Later he gladly took photos with others. He also actively took part in the fund-raising effort donating some of his personal souvenirs from playing in the WSOP and he even helped in the auctions to raise money during the tournament.
It's hard to say if he was really playing seriously in the tournament. Early, in the rebuy period, he was playing loosely but winning some hands while losing others. He lost one hand to me when I had a bigger flush than he had.
But from watching him I can tell you this-- pro poker players suffer the same bad luck and bad draws that the rest of us suffer. Men busted out of the tournament with only four tables left when he as a short stack he went all in with pocket kings, and lost to a player with slightly more chips who was already pot committed as the big blind who had 7-deuce off-suit. There were two 7s on the flop and Men got a round of applause as he left smiling.
That's happened to all of us at one time or another. We have the "best hand" pre-flop and then bad luck grabs us, knocks us down, and tramples us. Seeing that it happened to Men makes me a bit more understanding about how much "luck" factors into the game of poker.
So one thing I will always remember from this tournament is that even the worst hand in poker -- 7-deuce off-suit -- can beat pocket kings. But more importantly I will also always remember what a pleasure it was playing poker with Men "The Master" Nguyen.
CAN A CASINO CONFISCATE YOUR WINNINGS?
Updated November 4, 2010 We've all heard the stories about a minor who sneaks into a casino, plays a slot machine and hits a jackpot. Does the minor get to keep the winnings, even if a parent is playing with them? The courts have ruled "no." In this case, casinos can confiscate winnings.
Casinos can also confiscate winnings if someone puts himself on an exclusion list for problem gambling. In California for example, if you notify the State that you want to be voluntarily banned from casinos your decision is irrevocable. Players can bar themselves for periods ranging from one year to life. And if you happen to be on this voluntarily exclusion list and you sneak into a casino and win -- and if the casino finds out (as they would if it is a taxable jackpot) -- your winnings will be confiscated and the money is turned over to the State fund for problem gamblers. "That's why we tell people to be sure they want to ban themselves," my source in the California Justice Department told me.
We had an interesting discussion about players getting banned and what happens when a "banned player" gets into a casino and plays and wins. Is the money they won always confiscated? Well, it could be -- but isn't always.
"There are conditions," my source in the Justice Department told me. "Let's say a casino banned a player for a period of time for bad behavior, but the player comes back to the casino to play before the suspension period ends. If the casino knew that the player had returned and allowed the player to continue playing, we might fine the casino for not following rules and procedures and the banned player would keep his winnings." My source in the Justice Department said that because casinos have video surveillance systems, it can be shown if a player had been playing for a period of time with the casino's knowledge. "We don't want casinos saying a player is barred, but continue to take his money, and then when a player hits a jackpot to say the player was not allowed to play."
We recently heard about several incidents where players who were "barred" won jackpots in poker rooms and their jackpots were confiscated. "We have no specific rules about this," my Justice Department source told me, "unless the player voluntarily barred himself. Then the regulations are clear -- the winnings are seized and turned over to the problem gambler program. But if the player did not bar himself because of a gambling problem, then the player might be able to prove that the casino knew he was playing and the player would be entitled to the money whether he was barred or not for something like disorderly conduct. It would be a civil issue. A court would have to decide."
SO YOU WANT A REALLY GOOD SET OF POKER CHIPS
Some home game poker players really want a "really good" set of poker chips. Frankly, I didn't know the type or quality of chips made a difference to home game players -- but it does to many home game players. One player I talked to said he wants the best -- he wants Paulson chips for his home game. That was reasonable to me until I found out how much poker chips made by Paulson costs. You see, Paulson poker chips are the chips used in the big Vegas poker rooms such as those at Bellagio and Caesars and Mandalay Bay and Venetian. The Venetian has the reputation for being the top poker room in Vegas -- and that seems to make it the top in the world. Anyway, about the best price for a Paulson chip is a bit more than $1 per chip. Yeah, you could buy plastic chips at WalMart for about ten percent of that price-- but they won't be the quality of Paulson chips, and they won't have that "professional feel."
So, my friend the home player had an idea. Instead of buying professional Paulson brand chips -- why not "rent them for free." How do you do that? Well, his idea was that instead of buying 500 Paulson chips at a price of $664.95 (which was the price we saw advertised on the Internet) his idea was to go to a casino such as Caesars or Bellagio and get 500 of their $1 chips at the cage and bring them home. He would have 500 Paulson chips to use for his home games -- and when he was through hosting his home games, he could cash in the chips at the casino and get his money back. "I'm using the chip free of charge," he told me. "Instead of spending more than $600 for a set of chips, I rent the chips and can get all my money back." You know, it makes sense.
So, I called a few casinos and asked them -- can you "buy" 500 chips at the cage and take them home? And the answer was also reasonable -- "why not?" Actually the casinos would love you to do this because they get the cash for their chips and hope you never bring them back. In fact, one reason that Caesars Palace and other casinos change their chip designs so frequently is that they hope you will "collect" their chips because every chip you take home as a collectible is profit for them.
You know who also does this? The United States Postal Service. They would love for you to collect their special "commemorative stamps" that are issued every few weeks to honor this or that. Because every stamp that is collected is profit for the Postal Service.
PLAYING POKER IS LIKE LIFE
I've been playing poker for only a couple of years, and I only play low-stakes poker and low-cost poker tournaments -- so I'm no poker expert. But I have discovered that playing poker is a lot like going through life. In poker chance and odds and draws and bluffing are similar to what goes on in real life. Sometimes you have the cards to make demands for chips -- or to make demands for a discount or a pay raise -- and sometimes you don't. Sometimes you can bluff in poker because other players aren't sure about what you have and they are not confident about their cards, and sometimes in business you can bluff a customer or a supplier or a contractor the same way -- they might think you have another customer or another supplier ready to do business.
Probably the most important skill in poker is "reading the board" in games like Texas Hold 'Em and Omaha when your cards are combined with the cards on the table -- the so-called community cards or the cards on the board. Another very important skill is knowing how much to bet to win the hand, to win the most chips, and to chase others out of the pot or out of the hand. Those are life skills as well-- to know how you fit in with your environment, or what you can present "to the table" or to the community or to a business to make yourself more valuable and to win a job or a contract or a position of power.
Poker also teaches you about chance. The odds are that one in 220 hands you are going to be dealt two aces in Texas Hold 'Em. And in video poker, the odds are that once in 629,740 hands or plays you are going to be dealt a royal flush. It's like that in life too. Once in a while you are going to get a good start on a job or a career (two aces) and if you're very lucky once in a while you're going to be dealt a royal flush and a jackpot.
SOME OF THE BEST POKER ADVICE I EVER GOT
Some of the best poker advice I ever got came at a cash game at Hollywood Park Casino near Los Angeles. It was a friendly "cash game," and about as friendly as these kinds of cash games can get. Sure we were after each other's money, but the players were like me-- in the TV business. There was a producer, and a writer, and a couple of directors and actors, and we had the morning off from our daily media chores and were at the casino for some "poker fun."
The stakes in these games were usually low, but sometimes a large pot developed when a few of the players "had cards," meaning a good hand. And then the betting was brisk and the pots could become as big as a hundred dollars or more. I was in one of those pots with a pretty good hand-- but I wasn't sure it was "the best hand."
And looking at my cards, and looking at the pot, and looking at the other three players in the hand, I just didn't know what to do. Should I check or should I raise, or should I fold my hand rather than lose more money to a superior hand? That's when the "producer" at the other side of the table said to me "Alan, a winner can fold too." Yes, I folded. And that "fold" saved me a lot of money as the betting continued and had I stayed in the hand I would have lost to a superior hand.
That was really good advice -- winners can fold too. Sometimes you have to fold your hand to protect what remains of your chip stack which is your bankroll in a poker game. In chess, I sometimes followed the advice "when in doubt push a pawn" if it was my turn and I didn't know what chess piece to move. And now, when I play poker I always remember the advice that "winners can fold too."
WHY THE BEST HAND DOESN'T WIN IN ONLINE POKER TOURNAMENTS
Don't be frustrated by those "bad beats" in online poker tournaments -- especially the tournaments that are free and cost no money to enter. All of the online poker web sites have free tournaments from time to time, and in those free tournaments the "best hands" can easily lose to inferior hands. Let me tell you why. It's because in a free online poker tournament, some players will play "any two cards" and hope to get lucky, and sometimes they do get lucky.
Let me give you an example: in one free tournament (the online casino offered a prize pool of $50 to be shared by the top 18 finishers) there were five players in the hand. Some of the players had "good hands" including high pairs, or suited connectors. In this particular hand the flop comes three clubs. In the next round of betting, four players are all-in, and the cards are exposed. One player flopped the flush, another player had a pair, a third player had high cards but no club, and the fourth player had 6-6, pocket sixes, and without a club.
So at this point you have to ask why did the player with two high cards and no club go all-in after the flop? You can understand why a player with one pair might gamble. The player who flopped the flush is probably thinking "this pot is mine" after all of the cards are exposed. But -- hold on.
Then comes the turn, and it's a 6 of clubs. And then the river, another 6. The player who went all-in with a pair of sixes and no club had just made quads. So you're asking: why did this player go all in without a club? Well, online players tell me things like this happen all the time because the tournament is "free" and no real money is at risk. Players will gamble when there is no money involved -- and this was certainly a gamble (though it paid off).
In another tournament, in the very first hand of the tournament, a player with pocket aces, AA, raises the big blind of 10 to 200. Another player goes all-in and the player with AA calls, going all in as well. When the other player's cards are revealed he has an unsuited 7 and a Jack. And you're thinking, "all in with an unsuited 7 and Jack?" Yeah, that's what I would be thinking also-- but wait.
After the flop and the turn and the river, the player with J-7 makes a jack-high straight, beating the pocket aces. So, what would make the player with the unsuited Jack-7 go all-in pre-flop? Yes, it could have been a bluff and he might have been shocked to see the caller have pocket aces. But a bluff might not be the motivation and the player with J-7 off suit might have decided to go all-in just because he liked the combination of Jack-7 or perhaps he had a face card, or maybe just because he wanted to. Well, online players tell me, it's a free tournament, so why not go all-in? What do you have to lose? Nothing especially when another free tournament might be an hour later.

So what's the bottom line here? It's that anyone with any two cards is likely to play them in a free tournament with no money at risk and getting a player to fold with a big bet can be awfully difficult in online poker when players can see that "any two cards" can certainly win.
IS IT TIME TO BAN CELL PHONES FROM ALL POKER GAMES?
In most casinos, use of cell phones is not allowed during tournament play. Some casinos have a strict rule about this, but in other casinos you are asked to leave the table to use your cell phone. And then there are some casinos who have no rule at all -- or objection -- to using cell phones during tournament play. And every casino allows the use of cell phones in cash games.
But perhaps the time has come to ban cell phones from all games -- cash games as well as tournaments? Cell phone use is now banned in many blackjack pits because there are programs (or apps or applications) that can be used to determine player strategy. Now, there are similar programs (or apps or applications) that can be used to determine player strategy in poker.
The other night I was at a casino where a player showed me his cell phone, and the app that let him not only rank his hand, but also determine the chance of winning the pot based on the cards that have flopped and the number of other players in the hand. He used his cell phone app during critical hands in a no-limit Texas Hold'Em game. And he was winning.
Perhaps it is time for the casinos to ban the use of cell phones now that these poker strategy applications are so freely used and are as near as someone's smart cell phone. And even if you don't have the app or program loaded onto your cell phone, many cell phones today also have Internet access so a player with quick fingers could easily enter his hand to determine if he should raise, call, fold or check.
That's right -- the next "call" at a poker table could be to a web site that can help with player strategy or a click onto an application or program that can tell the user the same thing. Perhaps there is no room for this technology at the poker table? Or pretty soon, everyone will be on their phones letting the computers decide their next move.
THE TEXAS HOLD'EM PLAYER'S PRAYER
"Oh Poker Lord, please give me the hole cards that will make the winning hand, or give me the hole cards that will be easy to fold."
The truth is, prayer is important in the game of poker. In fact, the only difference between prayer in a church or synagogue and prayer in a casino is that in a casino you really mean it.
PLAYING A JACKPOT HAND IN POKER CASH GAMES
Many card clubs and casinos offer jackpots for certain competing hands at cash games. In many casinos, a jackpot is paid when four of a kind beats four of a kind, or when Aces full of tens or better is beaten by four of a kind or better, such as a straight flush or royal flush. These jackpots are usually funded by a portion of the rake (drop) on each hand, and the jackpots have a progressive payout. Sometimes the jackpots can reach twenty or thirty thousand dollars or more, with the winner and loser of the hand sharing the biggest percentage of the jackpot and the remainder given to the other players at the table -- the so-called "table share."
When there is the potential for a jackpot, most players at a table will know to "play differently," and play for the jackpot and not for their own personal interests. After all, a jackpot can pay hundreds of dollars to each player just in the "table share," while in most cash games the pot might only be worth a hundred dollars or less.
When there is a flop of the community cards containing two or three aces, the table goes on "jackpot alert." At some casinos, there is a "code" to alert other players that someone has a jackpot potential. Here's an example:
At Hollywood Park Casino in Inglewood, I saw this happen: The flop comes Ace, Ace, 5. One player (who we later found out was holding pocket Queens) bet $5, the minimum bet. This was a signal that he held a qualifying pair, so that if another ace came on the turn or river he would have a full house. The next "signal" was for a player holding an Ace to bet $10.
Well, there was another player holding an Ace. In fact he had Ace-King (the king is vital, which I will explain later). But instead of betting $10 to signal the table that he held the ace, he made a $75 bet and that forced the player with Queens to fold his hand.
Later the player with AK was told of his error-- that he should not have forced out the high pair because that "killed" the potential for the jackpot. And that King the player was holding? It was perfect for a jackpot because many casinos say "both cards must play" and in this case the King kicker would beat the 5 and the pair of Queens allowing the jackpot to be paid.
Casinos also have anti-collusion rules and these apply to jackpot hands as well. The players cannot openly discuss that there is the potential for jackpot which is why the "code" of betting one or two chips is used. Too bad not all players know this. Anyway, the jackpots keep rising -- and yes, they do get hit.