Below is the screen that was on the $1 Maximum Royals games at the M Casino. The Maximum Royals were designed so that the progressive jackpot amount on the Royal Flush increased rapidly -- at the expense of lower pays on some other, more common hands. No matter which game you were playing (say you were playing Bonus Poker), a portion of your contribution to the royal flush progressives went to each of the eight games. Look, for example, at the progressive jackpot on the Royal Flush for Bonus Poker in the photo taken on May 28, 2011 which is the second photo below.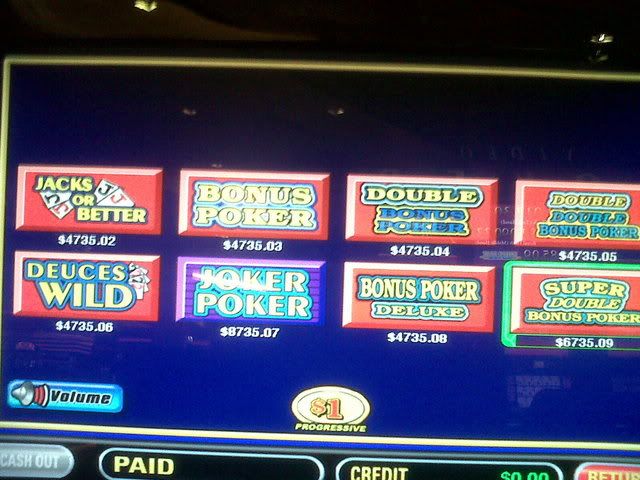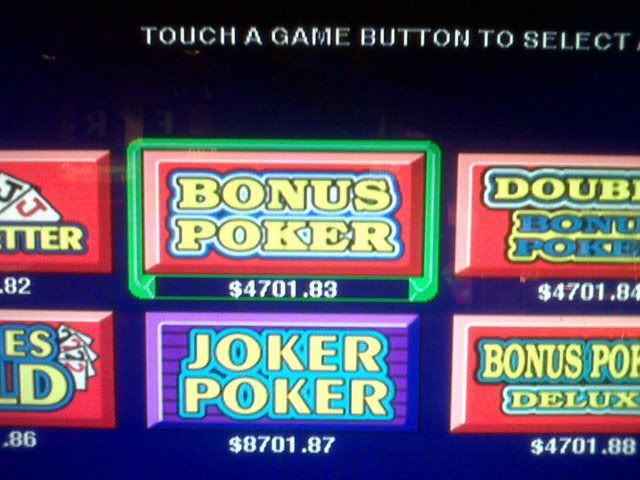 And below is that Bonus Poker pay table showing the pay with five coins in. Notice that the progressive jackpot was limited to just the royal flush. Some other casinos also offer progressives on other hands including four of a kinds or a straight flush. But at the M Casino, only the royal flush had a progressive jackpot. And because only the royal flush was fed by the progressive contribution of each player, the royal flush jackpot increased faster. Also keep in mind that each player's contribution to the royal progressives was divided among all eight games, so players were also funding a royal progressive on games they were not playing.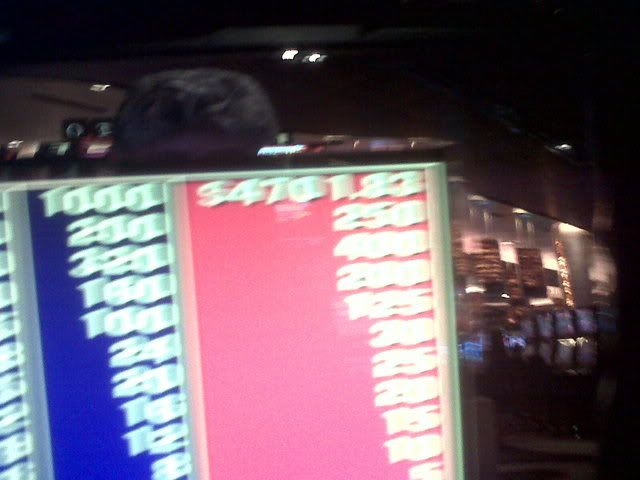 The photo below shows the low end of the pay table, with one coin played -- and in this case one dollar. Notice that the pay for a full house was only six coins, and the pay for a flush was only five coins. What is called "full pay Bonus Poker" pays eight coins for a full house and five coins for a flush. The "full pay Bonus Poker" with the 8/5 paytable returns 99.2% over the long term with correct strategy. But we were told that the 6/5 paytable with a normal royal flush of 4,000 coins will return only 96.87% which in the world of video poker is a game that the "experts" will not even touch. But we later found out that the experts flocked to these machines when the paytables became "positive" because the payoffs on the royals reached very high levels.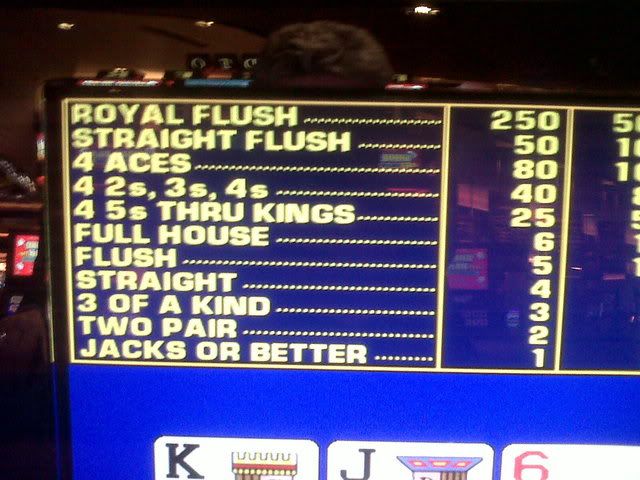 While these games are now part of "Vegas history" it is interesting that they existed and they helped to provide a forum for learning about the game of video poker. They also provided some lessons for players -- namely that if they didn't hit a royal, they probably lost a lot of money on these games. There is more information below including a look at the casino's strategy for having these games and more important some notes about your own strategy including when you should play these progressives and more importantly when you should not play them.
The casino's strategy here, according to various people I spoke with, was to offer eight different video poker games with royal flush jackpots that would grow very fast so that they would lure players who want to score a big win with a relatively small bet. And in doing this, the M Casino risked nothing. This is because the progressive jackpot is funded (so to speak) only by the players. The casino does not contribute to the progressive jackpot. While the M Casino was responsible for the basic royal flush payoff of 4,000 coins, every increase above the 4,000 coins came from a portion of the money bet by players. To make this contribution to the royal flush jackpot, the rest of the paytable was lowered. And as you saw above, in the case of Bonus Poker, instead of an 8/5 paytable or a 7/5 paytable that is available at some other Vegas casinos, at the M Casino the paytable was 6/5 for these Maximum Royals machines.
Now, as the royal progressive jackpots increased several things would happen in the "world of video poker."
First, the games became more attractive. While a poor paytable of 6/5 in Bonus Poker with a 4,000 coin royal flush was not attractive, once the royal flush on the $1 game rose to 10,000 coins the theoretical payback on the game became 100.383% according to the M Casino Slot Department.
I obtained from the Slot Department at the M Casino a chart that showed the theoretical payback on the eight different games that were offered as Maximum Royals Progressives. If someone didn't hit a royal flush for a longer than expected period of time, the payback on these games could actually reach better than 104%. But the M Casino was still guaranteed its profit because all of the extra royal flush money came from other video poker players -- and none of it came from the bottom line of the M Casino. In fact, as the royal flush progressive jackpots increased, there would be more players playing these machines with the poor paytables and that would even increase the profits of the M Casino. Of course there is nothing wrong with the casino making a profit -- that's how it keeps its doors open.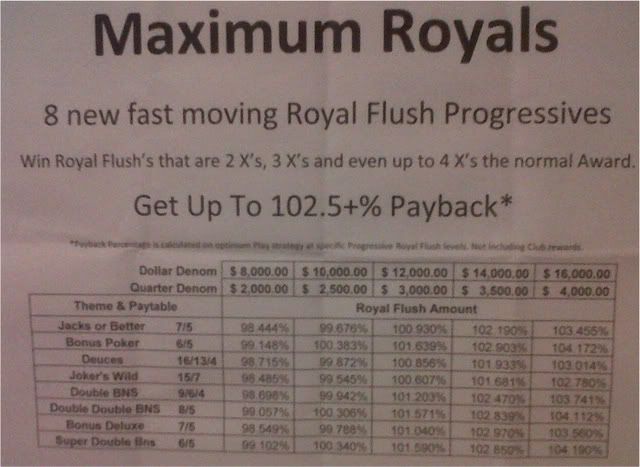 But now that the machines are gone, what happened to the progressives that were not hit? Well, following Nevada regulations, officials of the M Casino told me that the "progressive money" was moved from these machines to other machines in the casino. This is because under Nevada regulations the amount of money contributed by players to a progressive jackpot is considered to be the "players' money" and must be returned to the players in the form of a jackpot. Yes, the jackpot can be on a different game.
When these progressives were first installed I did some figuring based on the casino's formula for adding to the royal flush progressive jackpots and I found that it would take about 240,000 hands played for all of the royal flush progressives to reach the level of a 100% payback on all eight of the games. However, in the course of 240,000 hands we could see on average six royal flushes which would take the royal flush progressives back to the "re-set amount" of 4,000 coins on the game that was hit. So each time a game reset to 4,000 or didn't reach the threshhold of a 100% game, the game continued to be a "negative game."
Keep in mind that on average, a royal flush hits about every 40,000 to 48,000 hands depending on the type of video poker game. So if it took 240,000 played hands for these "negative paytable games" to become a "postiive game," the reality was that some of them would never reach that advertised payback of 102.5% or perhaps even something close to it.
So what should your strategy be if you ever come across progressive games like these in the future? Should you even play these progressives? Very simply, yes -- you should play them -- when the progressive jackpots are very high and if you feel lucky that you will hit the royal. Because if you don't hit the royal, you will be losing playing with games with very poor paytables. In fact, it will be very, very hard if not impossible for you to ever come out ahead unless you do hit one of these progressive royals, unless you have a big run of three of a kinds, or quads.
And so, because the goal is to hit when a progressive jackpot is huge, it becomes obvious that when the progressive jackpots are small you should not be playing these games. Instead, play other video poker games with much better paytables. So your first strategy should be to let other players build up the royal flush jackpots on these types of progressives for you before you start playing these games.
There is another strategy to consider, and that is how to adjust your play when the royal flush jackpots are huge. In those cases, you would adjust "proper strategy" for a strategy that would increase your chances for hitting a royal flush. Let me give you an example: when I played the Bonus Poker 6/5 Maximum Royals Progressive on May 29, 2011 on the very first hand I was dealt A of hearts, K of hearts, Ace of diamonds and two other cards that were not significant. The proper strategy in normal play would be to hold the two aces which is a guaranteed win and opens the door to three-of-a-kind and quads. But if the jackpot for the royal were huge (and at the time of my visit it was not) you would adjust your strategy to hold the Ace of hearts and the King of hearts to give yourself a chance at drawing the royal flush.
We are always looking for the Best Buys and there are even "best buys" when it comes to casino gambling. Frankly, we had a hard time thinking of these Maximum Royals progressives as "best buys" unless you were the lucky player who hit the royal flush and when the royal flush was giving a payback of greater than 100% or even greater than 104%. In fact, there is no theoretical limit to just how big the payback can be on these types of games. The signage at the M Casino simply said "get up to 102.5+% payback" but if the royal didn't get hit for a long, long time after a lot of play, the theoretical payback for the lucky royal flush winner could have been 110% or 150% or --- well, the sky is the limt. On the other hand, if you are playing these games, and you failed to hit the royal flush, you only made someone else rich, and you helped to boost the profits of the casino because of the inferior pay tables on these games. And, you also greatly reduced your chance for putting money in your own pocket.
Remember, that when you play a video poker game with a better paytable, you are likely going to get more "play" for your money and the extra play actually gives you extra chances for hitting a royal flush. To take your chance of hitting a royal flush at these types of progressives with the reduced pay table, you will need a larger bankroll to start playing. Of course you could use your regular bankroll at each session, but just realize that the paytable will not offer you as many additional plays as you might get on another machine with a better paytable. Of course, you might get lucky and be dealt a royal flush -- it does happen -- and the odds say it can happen about once in every 629,740 hands or so.
I won't tell you not to play progressives like these, but I will suggest that you adjust your play strategy to "push the royals" or to increase your chance of getting the royal flush once the royal flush progressive jackpots become big enough.
So, how "big" is "big enough" for you to play? Well, consider this: In a $1 per coin, 9/6 Jacks or Better game (9 coins for a full house, 6 coins for a flush) the payback is 99.5% over the long term with expert play with a royal flush of 4,000 coins or $4,000. At the M Casino, the Jacks or Better Maximum Royals progressive game had a paytable with 7/5 and in order for it to come close to a payback of 99.5% the royal flush had to be worth nearly $10,000 or the equivalent of hitting two and a half "standard" royals. And if you happened to stop by the M Casino and you saw that the royal flush progressive on the 7/5 Jacks or Better $1 machine had reached $16,000 then be aware that the so-called payback had reached 103.455% according to their Slot Department.
So how big did the royal flush jackpots have to be for these various games to reach or exceed the theoretical 100% payback? Using the chart from the Slot Department at the M Casino, here are their figures. The first amount is for the $1 games and the second amount is for the 25-cent games:
Jacks or Better 7/5 $12,000 $3,000
Bonus Poker 6/5 $10,000 $2,500
Deuces 16/13/4 $12,000 $3,000
Joker's Wild 17/7 $12,000 $3,000
Double BNS 8/5 $10,000 $2,500
Double Double BNS 8/5 $10,000 $2,500
Bonus Deluxe 7/5 $12,000 $3,000
Super Double BNS 6/5 $12,000 $2,500
And as I noted above, it took about 240,000 hands played for all of those progressive games to reach the theoretical 100% payback level, and in the course of 240,000 there could be a lot of royals that could reset the progressives on those games back to 4,000 coins which is $4,000 on the dollar games and $1,000 on the 25-cent games.
These progressive games are gone from the M now, but I wouldn't be surprised if they show up at some other casino. We are going to keep this informtion here hoping that it will provide some guidance to other players in the future.
Do you have any comments or questions about this article? Or any thoughts about video poker play in Las Vegas? Did you play these games? Tell us on our FORUM by clicking here.